Custom Bottle Opener - Bottle Opener Manufacturer
Custom bottle opener is really useful item, not only it can be a tool, but also it makes sure your customers think of your brand every time when they crack open a cold one! Morning Craft is your manufacturer for the best prices on bottle opener custom!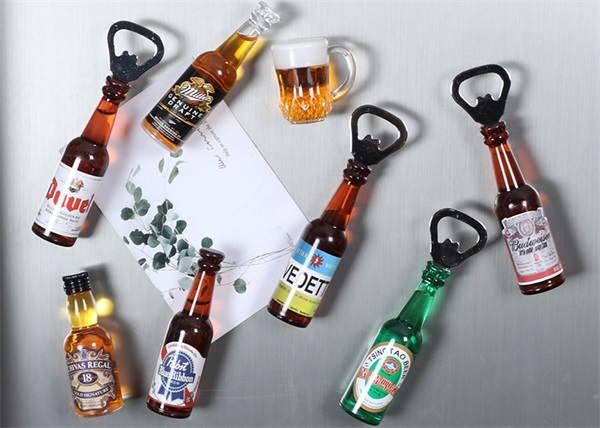 When you order from us, you get the top-quality bottle openers and outstanding customer services we're famous for. Our bottle openers are rust proof, scratch resistant and uv coated. All our openers are made of solid heavy gauge stainless steel, and proudly manufactured and printed in our in-house production facility. All bottle openers come individually packaged in our standard packaging, we can make custom packaging for your custom bottler openers if you want to truly represent your brand and business.
When you are walking through a tradeshow, you can see custom bottle openers are widely used as a classic trade show giveaway. As the technology develops, traditional custom bottle openers are up-grade to a high level with different styles, shapes, colors and designs. Customized bottle opener has been taken from their traditional plain look. They have been given a facelift without sacrificing their functionality. Here at Morning Craft, our professional craftsmen are able to create bottle openers in the shapes of stars, your loved sport emblem, rectangular, round, oval, or an etch-a-sketch. Your choice is endless, and our design will fit person's specific need at Morning.
Contact us at [email protected] with your requirements for costs and orders. We are happy to give you a quotation for your custom designs.
Custom Bottle Openers to Promote Your Business
Choose a giveaway which are fun and practical with custom bottle opener. Here at Morning Craft, we have tons of different looks and styles in our selection, you can find the suitable ones to match your needs and your customer' tastes. By choosing Morning Craft, you are choosing a manufacturer with more than 10 years in the business. So, no matter you are looking for something classic or creative, our craftsmen can help your find what you need exactly.
The best promotional items are effective as they are practical and helpful. They are customized, unique and memorable. With our custom bottle openers, your business or brand can have more personality and fun while offering your customers with a handy tool which they can use again and again. Customized bottle opener like household items, they can follow your customers while they travel. Your customers can enjoy a cold beverage when they are on business trips, vacations and everywhere they go. Custom bottle openers are the great promotional tool for bars, restaurant, breweries and any business which you want to spread the word about your brand.
When you are looking for a way to have your company or brand information in front of a group of people, custom bottle opener with customized information is the perfect solution. Unlike most of the giveaway items, custom bottle openers which are durable can lasts for years. Customized bottle opener can multiply the advertising power of marketing dollar. Here at Morning Craft, our custom bottle openers offer massive exposure for a reasonable cost. Our bottle openers carry the most distinctive customized bottle openers in the industry.
Here at Morning Craft, some our style staring as cheap as USD$0.50 per piece. It is easy to custom make your logo on any our custom bottle opener keychain. Some of our custom bottle openers have lights and serve three purposes. The overall benefits of custom bottle opener keychains are small, easy to accessible, portable to fit in small places. Custom bottle opener keychain can go wherever you go and never have to leave your side.
A Series Types of Custom Bottle Openers at Morning Craft
As one of professional craft & gift manufacturers in China, Morning Craft offers a series types of bottle opener custom to meet your design needs, they are:
1.Stainless Steel Custom Bottle Opener
Custom logo can be laser print/engraved on the bottle opener! Simple design! Good quality, cheap price!
2.Bottle Opener with PVC Sleeve
Full color print logo on the PVC sleeve, digital image is available, and the print logo/image is durable! Popular item!
3.Painting Spray Bottle Opener
Painting spray background with sublimation logo, colorful looking! The print image or logo is enduring! Amazing design!
4.Ruler Bottle Opener
A metal bottle opener has so many functions, it can work as a ruler, bottle opener, saw, turn the screw, whittling etc., it is a multi-functional tool!
5.Card Bottle Opener
Easy to use and carry! Good function! It is good for logo design! Lowest price but high quality! This one is very popular in Europe these years!
6.Wooden Bottle Opener
Perfect function! Stable quality! Surprised price! Custom logo can be made in the wooden handle easily! Good feeling!
7. Custom Keychain Bottle Opener
Classical design, custom logo insert is rotary. The rotary coin may relax user, very funny item!
8.Bottle Shape Bottle Opener
Simple and economic bottle opener. It is the most suitable for promotional gifts! Good looking, easy using and reliable!
9.Plastic Bottle Opener
Cheapest bottle opener, easy-using and easy to carry! Sell very well, we often got big quantity order for this item.
10.Custom Wall Mounted Bottle Opener
Hot sale item, many different material options. Fluent opener function, high quality and charming price! Attached with custom bottle opener wall mount.
11.Bullet Bottle Opener
Bullet shape bottle opener, special design, it is popular for some men! Very cool looking, the best quality and rational price.
12.Custom Wine Bottle Opener
Multi-function bottle opener, it has a knife, a bottle opener and a twist drill. It is very suitable for bottle opener, wine bottle opener and so on, a frequently used object!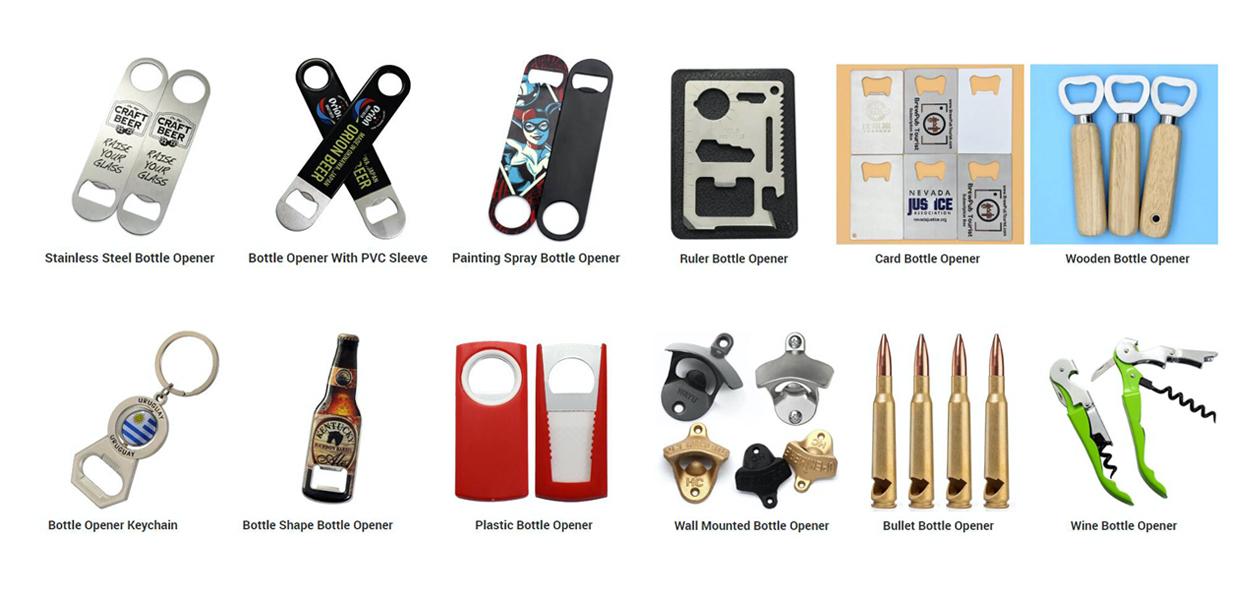 When choosing a bottle opener, it is important to consider who you are choosing this item for. Are they for your clients, prospective customers or your employees? Who are you buying them for impacts the decision you make on what you will order? The bottle opener in a credit card size is a good option for financial institutions and general uses.
Recipients are never worried about looking a way to open their bottle again as the custom bottle opener keychains attach to their keys. They can get the bottle openers with keychains, pop their and thanks for your useful items. A thankful customer is always a repeat customer, so, it is important to make the right decision and choose bottle opener keychains for your customers.
Durable custom bottle openers spread the footprint of advertising dollars over so much larger than cheap and throwaway items which are carried around for a day and then new seen again. When you want to make a decision to choose the best investment for your hard-earned advertising money, Morning Craft custom bottle opener are the best solution.
Bottle Opener Custom at Morning Craft
As a professional craft and gift manufacturer in China, we offer one-stop service from ordering to the final gift delivery, here, we take a closer look of how-to create bottle opener at Morning Craft:

1. To have an artwork which has been approved by customer. The artwork can in formats such as Ai, PDF, JPEG etc.
2. According to the artwork to build the tool by a series of machining methods such as CNC machining, EDM machining, wire cutting etc. to build the tool a.s.a.p.
3. Build up the tool and start stamping, we can have accurate outline of bottle opener on the stamping forming part, it is the semi-bottle opener now!
4. High polishing on the automation machines. We take care of the tiny details on the opener, and ensure the areas are polished well.
5. Laser engrave the logo on the bottle opener.
6. Wrap the bottle opener one by one by the poly bag.
Here at Morning Craft, our custom bottle openers can be created in fun shapes which everyone enjoys. Funny customized bottle opener is the conversation starters, they can get a lot of attention. If you are located at the beach, try to use palm tree bottle opener key chains to remind your friends, employees, customers of the sand and water. Shark bottle openers is a great beach custom bottle opener also. Surfboard bottle openers are also the great beach reminder. If you are animal lovers, an animal themed logo bottle openers are the great choice. Creating custom bottle opener bulk or bottle opener keychains in animal shape is appreciated by animal lovers. Customize bottle opener which is related to business theme are always an excellent choice. If you a music related businessman, you can consider using a music related logo bottle openers with a music theme such as custom bartender bottle openers. Here at Morning Craft, our guitar bottle openers fit right this business. If you are related to sport business, there is a wide range of custom bottle openers choices to choose from. You are able to find the right one to fit your need and your niche of your business. For example, skateboard keychain and bottle openers with rolling wheels, baseball bat bottle opener, football bottle openers. It is easy to create a custom bottle opener which will get your unique noticed.
An Astonishing Online Platform for Custom Gifts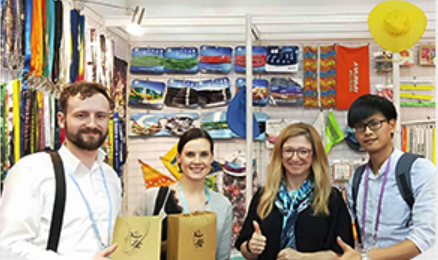 Most people love to have customized items. Many online platforms provide customized services in helping people to get the custom items. Morning Craft is one of the most reliable and trusted craft platforms in China, we have rich experience in making and dealing with custom key chain, custom bottle opener, custom medals, personalized dog tags, and many more crafts. Morning Craft sells millions of goods in high quality but cheap price yearly all over the world. People are satisfied with our customized craft. If you want to buy a bottle opener, you can personalize your bottle opener with your customizing ideas. The qualities of the products are superior and rigid. Want to know more about our services? Contact Morning Craft at [email protected], we provide excellent 24/7 customer service, which can help you get your bottle opener customized faster delivery!
Some Hot-sale Bottle Opener at Morning Craft
Morning Craft helps lots of customers to customize their own bottle openers. There are some popular bottle openers which are sold very well these 2 years. Is any type of bottle openers custom below meet your needs? Contact our team at [email protected] for having your own style bottle openers!
Displaying 1 to 10 ( of 10 products)