Custom Challenge Coins - Deliver in Less than 10 Days
Custom challenge coins are coins that are specially designed. A challenge coin custom is used to confirm membership in an organization or a group. Customized challenge coins are also used to honor people who made a special achievement.
Description of Challenge Coins Custom
Challenge coins are small. They fit in the palm of people's hands. Here at Morning Craft, we offer custom challenge coins with no minimum. Our customized challenge coins are made of metal. Every custom challenge coin has a unique design so that they belong to the organization.
The organization's logos can be etched into the coins by creating custom challenge coins. The organization's motto can be engraved around the edge of challenge coins. Here at Morning Craft, we can also make colored enamel painted into the etching, which depends on the unique design.
Usually, challenge coins are round. We can also create custom challenge coins in other shapes and special designs, which include unique features and cutouts, such as bottle opener tools. Customized challenge coins can be made from a wide range of metals—for example, zinc, bronze, brass, and more. The more expensive versions are 24-carat gold.
What do Challenge Coins Represent?
Challenge coins represent units, teams, and organizations. They also represent an anniversary, special event, and achievement. Challenge coins custom has a long-standing tradition in military history. The military is not the only service that uses customized challenge coins. There is also a history of first responder services using challenges. The civilian group began to use custom challenge coins to represent accomplishments in business. It is a new way to represent custom challenge coins. Customized challenges coins are used to build team morale, link people with similar interests, and promote their brand.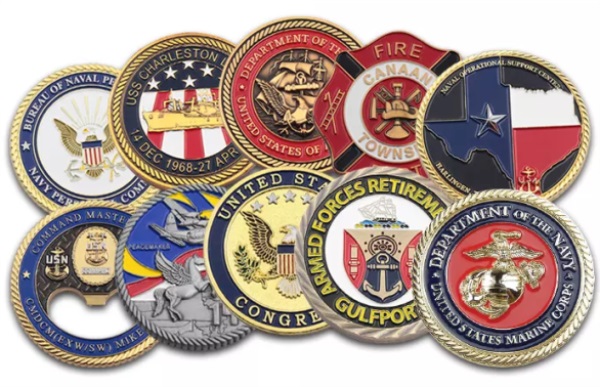 Custom Military Challenge Coins
Traditional challenge coins represent military branches, individual units, special groups, and missions. Military leaders, top generals, and presidents have custom military challenge coins. Service members develop a large collection of custom challenge coins during their time in the military. They are pound of themselves when they display their challenge coin custom-made.
Custom First Responder Challenge Coins
Custom first responder challenge coins are used to honor service. For example, the purpose of using custom challenge coins in law enforcement agencies and firefighters is to honor special achievements in duty. Challenge coins used in government agencies and politicians are to recognize the first responder in their communities.
Why Customized Challenge Coins?
A custom challenge coin is used for membership, recognition, and to create a relationship between people in groups or to commemorate special events and anniversaries.
Membership
Military challenge coins prove that you are a union member or served on a tour of duty. They mean you are a member of an elite group of people. In military history, military challenge coins were used for security. The challenge coins are shown to prove a service member's loyalty. Military challenge coins may not be necessary today, but being a team member is a strong military tradition.
Awards and recognition
Custom challenge coins are used to award members who complete their duties well. Customized challenge coins are given for great performance to build morale and pride. Getting a custom challenge coin is a great honor, and a team member will work hard to get it.
Build bonds and connections
Custom challenge coin keeps members connected even they leave the service. Veterans display their cons from units they have served in. Customized challenge coins pay tribute to events that members endured together and built a bond that lasts a lifetime.
Branding
Challenge coins are used to identify a corporate brand and logo. Custom-engraved challenge coins are handed out at conferences, sales events, and trade shows. Compared to a business card, custom challenge coins are more memorable. Schools and sports teams also used customized challenge coins. Mascots and logos can be used on coins and in local community events.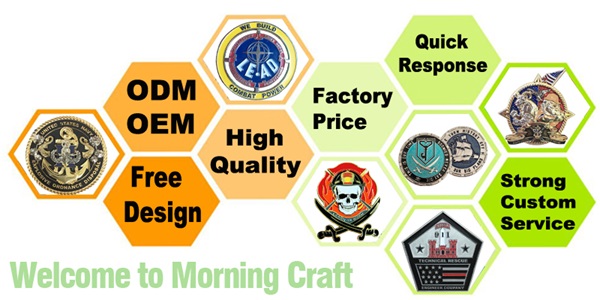 Morning Craft is proud to be a leading custom challenge coin manufacturer supplying the highest quality custom and souvenir coins. Our custom challenge coins are cheap and worthy of any collection. We use top-quality metal along with advanced technologies to craft custom coins. Turn your designs and ideas into quality coins. Our craft men will help you achieve the preferred size, shape, design, color, and finish you want. Whether you need soft enamel challenge coins, 2D or 3D cast souvenir coins, or printing coins, choose the coin type and custom elements, and upload your design. Morning Craft will take care of the complicated rest process. You will experience the highest quality of services. We will guarantee you get your custom challenge coin displayed quickly and easily.
1. ANY size, ANY shape, ANY design, ANY color, ANY finish
2. Individual tagging and packaging available
3. Endless options
4. Minimum and bulk order
5. Lowest price, highest quality, fastest delivery
Contact us at [email protected] with your requirements for costs and orders. We are happy to give you a quotation for your custom designs.
3 Major Types of Challenge Coin Custom
•Custom Honor Coin
Custom honor coins are used to boost morale, recognize service for military personnel and civilians, etc.
• Custom Military Coin
Custom military coins are a great way to build camaraderie, team loyalty, and a sense of brotherhood between teammates.
• Custom Commemorative Coin
The coins are popular among collectors and corporations, and a custom commemorative coin is used for celebrating and honoring a particular place or event.

Edge Options for Your Custom Coins
Rope Line Edge, Oblique Edge Cut, Spur Edge Cut, Flat Weave Edge, Diamond Edge Cut, and Bevel Edge Cut are the edge options for your custom coins.

Colorful Plating Options for Challenge Coin Custom
Morning Craft offers colorful plating options for your custom coins, which allows you to choose your favorite color challenge coins.

A Series of Customized Packing Options at Morning Craft
Acrylic Coin Box, PVC Envelopes, Plastic Coin Capsules, Velvet Box, Velvet Bags are the commonly used packing methods at Morning Craft.

What Are the Purposes Challenge Coins?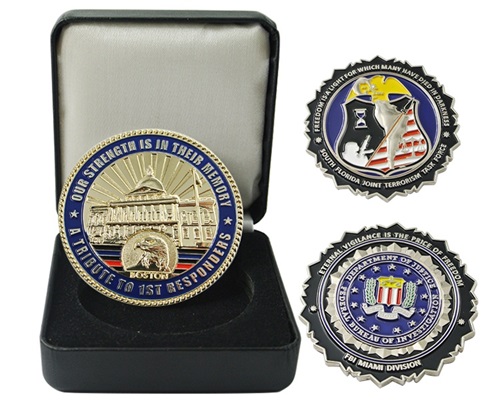 Custom Challenging and Souvenir CoinsCoin, especially for the custom police challenge coins, are meaningful. People commission them as unique commemorative items for an event, business, or famous location. As souvenirs, challenge coins are unique gifts marking a visit to a famous location or as a keepsake of a major event.
•Challenge Coin Custom has a big story initiated from the military coins. It is popular among businesspeople nowadays. It's given to someone to confirm membership in an organization or group. A challenge coin can also honor a person for a special achievement.
•Souvenir Coin is unusually beautiful and valuable trinkets that can be a terrific souvenir from travels, a recognizable mark of your company, association, club, or a coveted award.
These coins are mostly used to indicate impressive attractions and mysteries and for advertising. Typically, they will be gold plated and officially designed by the mint artist. The thickness of that will be 2-4mm.
Are you looking for a manufacturer to custom your challenging and souvenir coins? Contact us today for your coins.
Why Make My Challenge Coins and Souvenir Coins at Morning Craft China?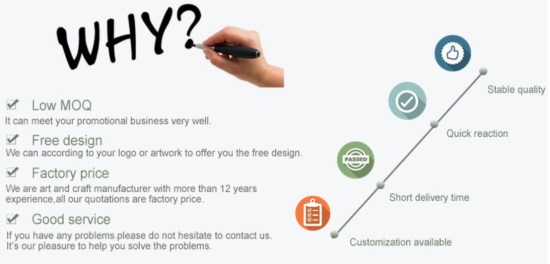 Low MOQ: it can meet your promotional business very well.
Free Design: Morning Craft can offer free design support according to your custom-made challenge coins.
Factory Price: we are an art and draft manufacturer with more than ten years of experience, and all our prices are factory prices.
Good Services: we offer one-stop services starting from inquiry to part delivery. Our dedicated project manager keeps you posted about the project status. We guarantee you know everything about your projects.
Want to have a quote for your customized challenge coins and souvenir coins? Morning Craft is a professional custom challenge coins factory. Please email our team to learn more now! If the customers need high-volume coins, we can offer custom challenge coins with no mold fee.
Some Hot Sale Custom Coins at Morning Craft
Contact us to get custom challenge coins cost now
Displaying 1 to 10 ( of 10 products)