Custom Challenge Coins - Deliver in Less than 10 Days
Morning Craft is proud to be a leading custom coins maker to supply highest quality custom challenge coins and souvenir coins. Our custom challenge coins and souvenir coins are worthy of any collection, we use top quality metal along with advanced technologies to craft custom coins. Turn your designs and ideas into quality coins? Our craftmen will help you to achieve preferred size, preferred shape, preferred desgin, preferred color and finish you want. No matter you need soft enamel challenge coins, 2D or 3D cast souvenir coins, printing coins, just choose the coin type and custom elements, upload your design. Morning Craft will take care of the rest complicated process. You will experience the highest quality of services. We will guarantee you get exactly what you are looking for in a fast and easy way.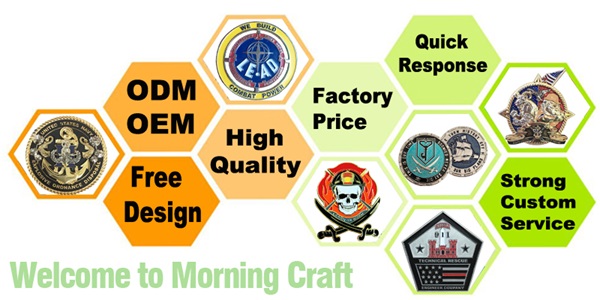 ¤
ANY size, ANY shape, ANY design, ANY color, ANY finish
¤
Individual tagging and packaging available
¤
Endless options
¤
Minimum and bulk order
¤Lowest price, highest quality, fastest delivey
Contact us at [email protected] with your requirements for costs and orders. We are happy to give you a quotation for your custom designs.
3 Major Types of Challenge Coin Custom
•

Custom Honor Coin
Custom honor coins are used to boost morale, recognize service for military personnel and civilians etc.
•

Custom Military Coin
Custom military coins are a great way to build camaraderie and a team loyalty as well as a sense of brotherhood between teammates.
•

Custom Commemorative Coin
The coins are popular among collectors and corporations, custom commemorative coin are used for celebrating and honoring a particular place or event.

Edge Options for Your Custom Challenge Coin
Rope Line Edge, Oblique Edge Cut, Spur Edge Cut, Flat Weave Edge, Diamond Edge Cut, Bevel Edge Cut are the edge options for your custom coins.

Colorful Plating Options for Challenge Coin Custom
Morning Craft offers colorful plating options for your custom coins, which allows you to choose your favor color custom challenge coins.

A Series of Customized Packing Options at Morning Craft
Arylic Coin Box, PVC Envelopes, Plastic Coin Capsules, Velvet Box, Velvet Bags are the commonly used packing methods at Morning Craft.

What Are the Purposes Challenge Coins Custom?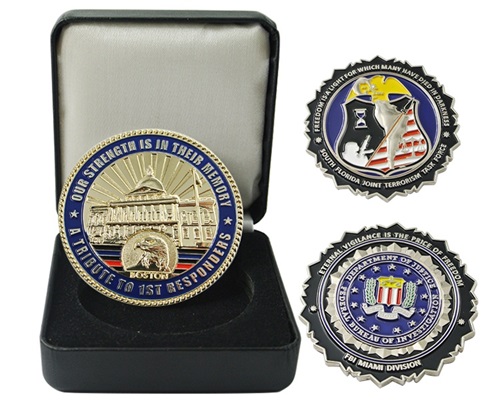 Coin, especially for the the Custom Challenge Coin and souvenir coin, they are meaningful. People commission them as unique commemorative items for an event, business, or famous location. As souvenirs, challenge coins are unique gifts marking a visit to a famous location or as a keepsake of a major event.
• Challenge Coin Custom has a big story which is initiated from the military coins, it is popular for business people nowadays. It's given to someone to confirm membership in an organization or group. A challenge coin can also honor a person for a special achievement.
• Souvenir Coin is unusually beautiful and valuable trinkets, which can be a terrific souvenir from travels, a recognisable mark of your company, association or club, or a coveted award.
These coins are mostly used to indicate the impressive attractions, mysteries and also used for advertising. Typically, they will be gold plated, and it is officially designed by the mint artist, the thickness of that will be 2-4mm.
Are you looking for a manufacturer to custom your own challenging coins and souvenir coins? Contact us at [email protected] for your coins.
Why Make My Custom Challenge Coins and Souvenir Coins at Morning Craft China?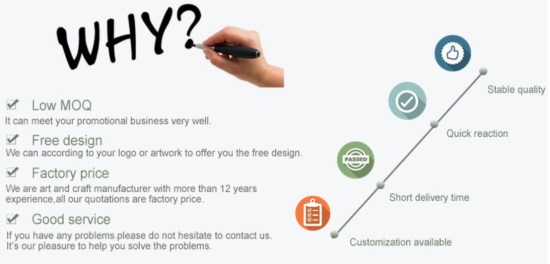 Low MOQ: it can meet your promotional business very well.
Free Design: Morning Craft can offer free design supports according to your ideas and draft works.
Factory Price: we are art and draft manufacturer with more than 10 years experiences, all our prices are factory prices.
Good Services: we offer one-stop services start from inquiry to part delivery, our dedicated project manager keeps you posting about the project status, we guarantee you clear know everything about your projects.
Want to have a quote for your custom challenge coins and souvenir coins? Email our team at sales[email protected] to learn more now!
Some Hot Sale Custom Coin at Morning Craft
Contact us at [email protected] to challenge coin custom now
Displaying 1 to 10 ( of 10 products)