Custom Badges - Free Quote Within 24 Hours
Custom lapel pins and metal badges are an excellent way to advertise your business or show your unique ideas. Making premium quality metal badges are our specialty. The Badges and custom badge reels we offer can be completely personalized and designed to suit your needs. As a trusted badges and lapel pins manufacturer, our badges and lapel pins are crafted to stand out from others in terms of quality, pricing, and perfection. Our products are quality tested by experts at all levels of production. And our products fit your budget. Types of custom metal badges and lapel pins include Soft Enamel, Hard Enamel, Photo Etched, Silicone, etc. Attachment includes Rubber, Butterfly clutch, Safety Pin, Jewelry, Duplex clutch, Cufflink, Magnet, etc.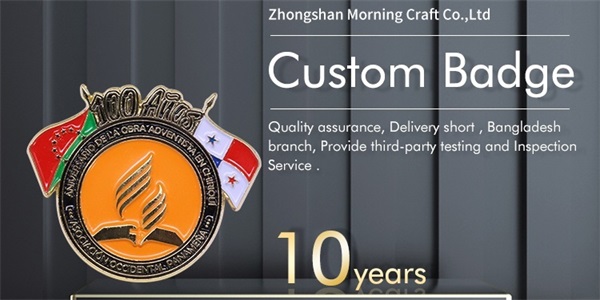 •Metal badges and custom lapel pins in custom geometry and size.
•Badges and lapel pins in 2 or several colors, meanwhile.
•Custom lapel pins and metal badges in diversities metals to meet your needs.
•We love the small volume and bulk orders.
•Custom badging for cars etc., with nice attachments and packages.
•Durable and hard-wearing custom badge.
Contact us at [email protected] to customize your badges and custom badge reel. We are happy to give you a quotation for your custom designs.
Strong Engineering Supports to Help with Your Badges Custom
Morning Craft offers engineering supports to help with your designs. You need to tell us ideas about your metal badges, such as custom badges for cars, police badges, custom sheriff badges, or a rough draft of designs. Our expert engineers will analyze and give you suggestions about color, finish, and attachment selections.

As a reliable custom badge maker, we have helped many customers make their cheap custom pin badges and custom badge ribbons efficiently. According to our work projects, the badge custom can be classified into three major kinds at Morning Craft:
1. Soft Enamel Pin: The color is lower than raised metal lines.
2. Hard Enamel Pin: Flat surface, metal lines, and colors at the same level.
3. 3D Mold Pin: The pins look more vivid and 3D dimensional.
These three technologies can be applied to custom police badges, car badges, custom name badges, custom auto badges, custom truck badges, custom firefighter badges, custom jeep badges, etc.

Ready to custom your lapel pin and badges, maybe car badges custom? Please contact us to get our support today.
What Are the Benefits of the Customized Badges?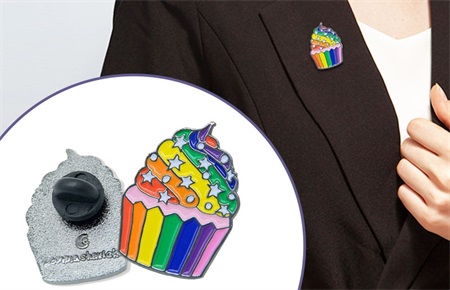 Here, we are sharing our opinions on the benefits of making custom lapel pins and Badges.
1. Build your brand and name recognition with customized name badges.
2. Custom lapel pins and metal badges can work as promotional items, such as custom embroidered and dodge ram badges.
3. Advise your name and brand indirectly on custom badges and lapel pins - name badges are custom.
4. Custom lapel pins and Custom Metal badges can help Coworkers Identify Each Other.
5. Boost Employee Morale with lapel pins and metal badges.
What Are the Advantages of Making Badges at Morning Craft?
| | |
| --- | --- |
| BASIC OF COMPARISION | Morning Craft COMPARED TO MARKET AVERAGE |
| Price | 30% lower (Direct Factory Price) |
| Turnaround Time | 30% faster |
| Quality | Superior Quality |
| 100% Quality Inspection | Yes |
| MOQ | No MOQ |
| Worldwide Shipping | Yes |
| Customer Support | We are always online |
| Design Help | Free |
| Cooperate social responsibility | We are committed to and follow it |
| Dedicated account manager | Of course, no matter big or small orders |
Why Use Custom Badges to Promote Your Business
Finding a great way to leave a lasting impression of your business or brand on customers takes work. But giving your customers a unique custom badge can do that. Promotional items like badges have been used as advertisement items for decades. You will be beneficial from badges to promote your brand and your company.

1, Badges Are Long Lasting
People will lose your business car or flyer quickly. A promotional item like a custom Subaru badge is likely to stay around. As custom badge is valid, customers will only throw them away slowly. They will probably keep it. The more extended customers keep your badges, the more they will remember your brand and company. Metal badges remind you of your brand or business, and your customers will see your company or brand logo whenever they need your services.
2, Badges Can be Served as Business Cards
If you use promotional badges, you will no longer need business cards. As mentioned above, customers will keep your valuable badges, which makes your custom badge cost-effective. You don't need to give the same customers business cards they lose. You can decorate your badges with a custom retractable badge holder, which is notable!
3, Customize Badges Are Recognizable
Even if your business card and flyer have a company name and brand logo, it is not recognizable instantly. A custom badge, such as a custom badge car, is more attractive and eye-catching. If your design is beautiful, your customers will recognize your company and brand instantly. They will associate your product and company with that badge and custom badge reels. If you create your badges with a fantastic design, your customers will show them off. They will wear your badges on the bag or backpack so everyone around them can see your logo. Custom id badges can be recognizable with a unique custom id badge holder!
4, Customized Badges Are Affordable
Promotional products can be expensive, but a custom badge is a cost-effective item you can have. Other promotional items that your customer may cost time and money to create. The main advantage of custom badges, such as car badging, is that people can wear your badges almost anywhere, and people around your customers will see your company and brand logo. With other promotional items, there is a place where customers will place, which adds variety to the promotional campaign.
5, Badges Are Customized to Meet Your Needs
People want to get free, even just a custom badge. People will consider it a great effort by your company to show that you care. Adding a message on badges will remind your customers they come first. When they see the news, you will likely share it with their friends, who may become your future customers.
Contact Morning Craft Today to Create Customized Badges for Your Business
Custom badges are a great way to keep your customers coming back. If you are ready to create your customized badges and hand them out to your customer, you can get the most competitive prices from us. Here at Morning Craft, as a professional custom badge maker, we can create a wide range of badges and custom badge holders, which include custom car badges, custom name badges, custom police badges, custom car badges, custom ID badges, custom security badges and more. Contact us today for more information about custom badges and other promotional products for your business.
Displaying 1 to 10 ( of 10 products)