Personalized Dog Tags | Bulk | Wholesale | Logo Tags - Low Cost
Dog tags custom-made must have contact information, which enables the owners can be contacted immediately. This will incorporate the name of the pet and owner, the owner's telephone number, address and email address, and more. With these lines, the owners can be reached immediately.
When it comes to what information should be put on personalized dog id tags, the owners should think about what information they want. The name of the owner should be a grown-up individual from the family. ID information such as social security numbers can make wholesale fraud conceivable, which should not be put on personalized dog ID tags.
As for appearance, personalized dog tags for pets can be an assortment of appealing shapes and styles. An attractive dog tag can draw people's attention, which may help secure the pet by making it obvious to drivers, especially at night and in the evening. Also, all information on custom dog tags for pets should be forward-thinking. Also, by offering contact information, the owner can decrease the chance of missing a contact endeavor. To order personalized dog tags, you can explore leading personalized dog tag manufacturers like Morning Craft to create your dog id tags personalized made.
Why is It Called Dog Tags?
Military identification is called dog tags because they are personalized for pets. So, if you are looking for customized dog tags for your pets, the right terms are pet tags and not dot tags. Dog tags refer to military tags and custom dog tags for men.
What are Custom Military Dog Tags?
A customized military dog tag is a type of military identification tag worn by soldiers in war. These dog tags are used to identify the dead and wounded in the war. They are given to soldiers instead of plastic ID cards because metal custom military dog tags are harsh conditions resistant and durable. Sometimes, dog tags are confused with pet tags used on animals.
What are Custom Dog Tags for Pets?
To a lost dog, customized dog tags for pets are truly a lifesaving measure. Dog tags show that the dogs have an owner when somebody sees the tags. They ensure that the lost pet will be treated as somebody's pet which is different from a non-domesticated stray. This is important in some areas where pet management direction separates strays and lost pets. With custom dog tags for pets, the owners can be ensured that their pets will be returned whether it is lost or not.
History of Custom Dog Tags for Humans
The first dog tag for humans is the American civil war. It was used to identify the dead soldier. The dog tags can withstand harsh battel conditional and are corrosion resistant. The soldiers were buried in unmarked graves, the improvised ways to solve this problem. The earliest try to identify is to mark on clothes, pin paper tags on shirts, and old coins, carve chunks the wood, and string around the neck. The suppliers who followed the soldiers offered engraved metal tags. After the war of 1899, an official request introduced an identity disk. In the early 20th century, the tags were officially introduced in a round disk engraved with a soldier's name, number, and company. The tags became a part of the army field kit before World War I. Today, customized dog tags are not only the first level of identification in the army. As technology develops, the way to identify the dead is by using DNA sampling.
Creating your Dog Tags at Morning Craft
Crafting your customized dog tag is a great option for customized gifts. Morning Craft's high-quality dog tags are photo realistic and intended for men, women, and kids. Dog tags are available in stainless steel, silver, gold, and rose gold. Each dog tag comes with a ball chain. Each custom dog tag necklace can come with a nice gift box. Custom dog tag necklaces can be engraved and have photos or coordinates.

1. ANY size, ANY shape, ANY design, ANY color, ANY finish
1. ANY size, ANY shape, ANY design, ANY color, ANY finish
2. Individual tagging and packaging available
3. Endless options
4. Minimum and bulk order
5. Lowest price, highest quality, fastest delivery
6. Each custom dog tag comes with a free standard ball chain necklace.
7. Durable
Contact us at [email protected] with your requirements for costs and orders. We are happy to give you a quotation for your custom designs.
The 6 Major Types Dog Tag Necklaces at Morning Craft
Stainless Steel Dog Tag, Aluminum Peg ID Tag, Murphy Peg ID Tag, Silicone Dog ID Tag, Custom Shape Dog Tag, Quick Peg ID Tag.

What are Customized Dog Tags Made Up of?
Our customized dog tags at Morning Craft are made of corrosion-resistant metal. For example, stainless steel and aluminum. The customized military dog tags are made up of 304 stainless steel, which contains 18% chromium and 8% nickel to be corrosion resistant. We can also make customize dog tags out of brass and copper. Typically. The size of personalized military dog tags is around 1 inch x 2 inches. And there is identical information on both sides of the tags. They can be separated plates like the American tag or as a single tag like the Canadian tags. Canadian tags can be broken into two pieces if needed. The American tags have two separate pieces. One is hung on a long ball chain of 24 inches, and the other is hung on a small ball chain of 4.5 inches. The standard diameter of the ball chain is 2.5mm, and it can upgrade to a 3mm ball chain. If the diameter of the ball chain is bigger, it cannot move in the tag hole freely.
Stored Blank Stainless Steel and Aluminum Dog Tag Necklace at Morning Craft
Morning Craft has stored a series of blank stainless steel and aluminum dog tags. You can contact our team for the prices if you have the preferred one. The tags are blank. You can print your logo and peg ID on it as you want!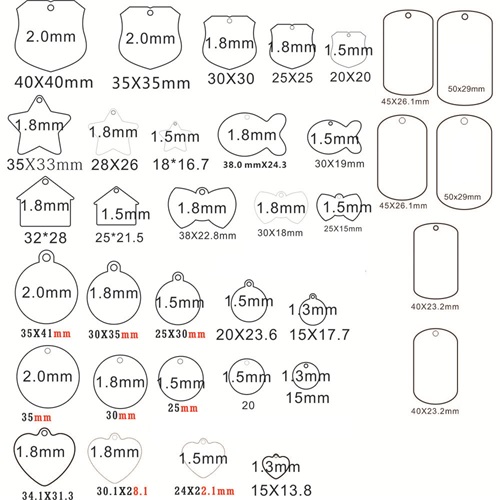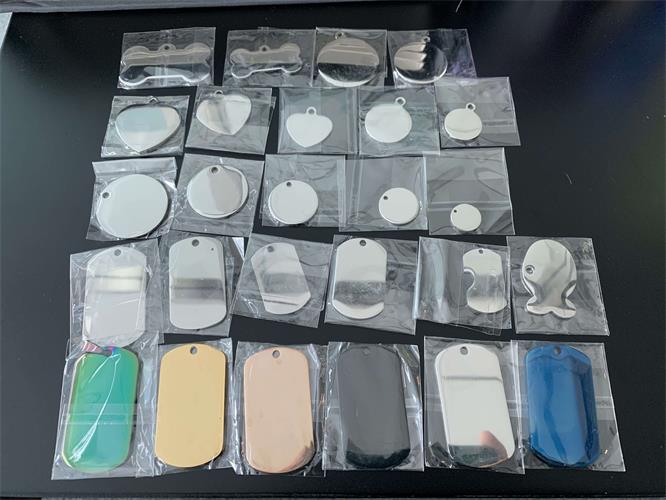 Why Most People Prefer to Dog Tags Personalized Necklace?
In war, custom military dog tags are used to identify the dead or wounded by using the information engraved on the dog tag custom. Suppose the condition does not allow the removal of the dead soldier. One tag is collected, and the other is left on the body's body. Outside the war, bikers or adventure enthusiasts use the custom dog tag. They put their address and emergency contact information on the customized dog tags. A customized dog tag is also useful for older people with special medical conditions when they travel alone. Today, dog tags personalized for humans are a way of fashion.
A dog tag is also known as a dog tag necklace. It creates a more personal touch to your personality and style. It is also a popular military chick fashion product, especially among teenagers and young adults. Nowadays, dog tags are highly personalized and expressive.
What Information Should Customized Dog Tags Have?
Five lines of information can be embossed on a customized dog tag. Every line can have 15 alpha numerals and some characters. First name, last name, contact number, and blood group are the standard information on a custom dog tag.
What are the Buying Tips for the Customized Dog Tag Necklace?
The buying tips for the dog tag necklace and custom dog name tags are given by:
Material: The dog tags are made up of different types of materials. Aluminum is one of the most common materials used in the dog tag.
Size: You can find personalized dog tags in many sizes. You can choose the dog tag size that is comfortable.
Handmade or machine-made: Most of the dog tags (dog tags military custom and military dog tags custom) are machine stamped, but you can choose handmade dog tags. The handmade dog tag is ideal for unique materials like polymer, clay, wood, sterling silver, and leather. You can buy customized dog tags from online websites such as Morning Craft.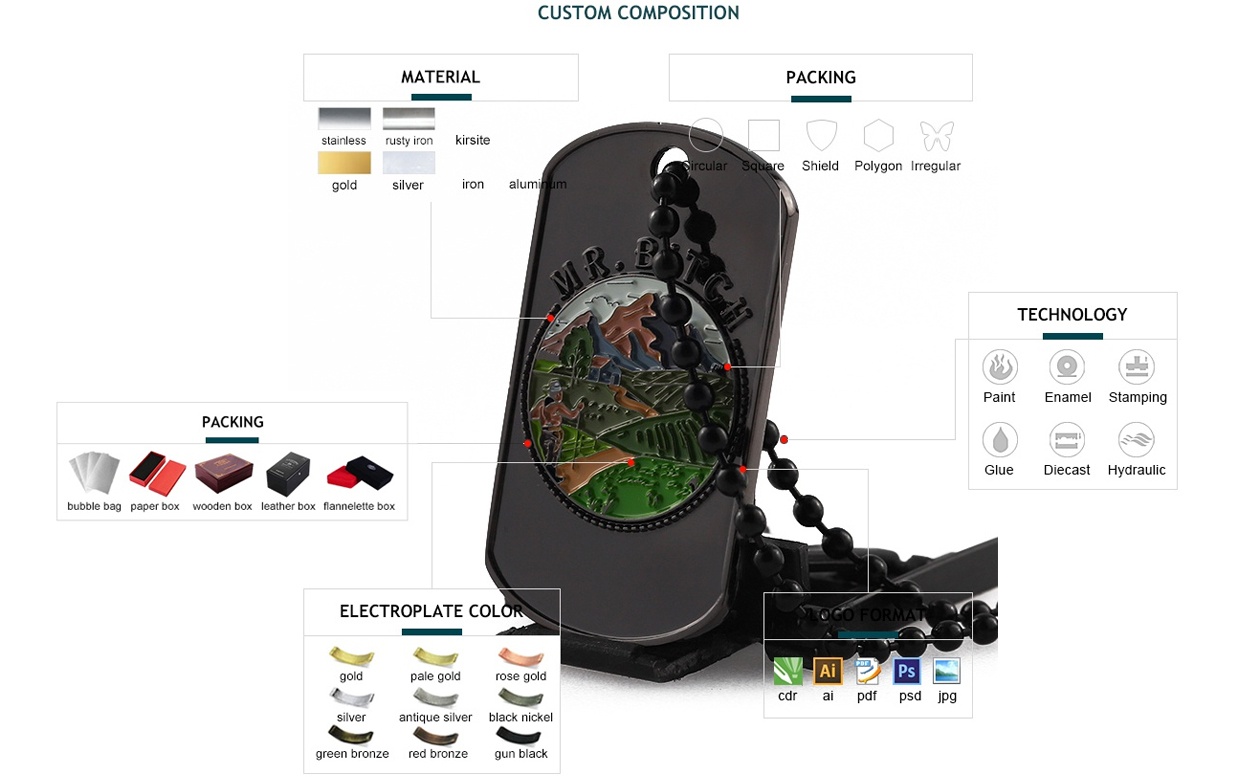 Some Popular Dog Tags Necklace at Morning Craft
We collect the most popular Dog Tags at Morning Craft. Our customers love these tags. We received lots of positive feedback this year. Do you want to have your custom dog tag? Contact us for a free quote and support today!
Displaying 1 to 10 ( of 10 products)