Buy Wholesale

Custom Tie Clips and Cufflinks in High-Quality
Dress up with a impress cufflinks and tie clips!
Tie clips and cufflinks is a stylish touch to your button-down shirt. This personalized accent enhances your overall look. Our custom cufflinks and tie clips sets are durable and stylish which are crafted with sturdy materials like sterling silver and gold vermeil. Cufflinks and tie clips are thoughtful gifts, especially if you're shopping gifts for groomsmen. They can enjoy these tie clips and cufflinks sets on your wedding day and beyond. Dress up your formal look with customized cufflinks and tie clips made just for you. Cufflinks and Tie Clips which designed with durability and style are ideal for everyday wear, special occasions or both. Personalized options allow you to create a monogram that's made especially for you or a friend. So, celebrate a birthday, holiday or special occasion like a wedding by gifting personalized tie clips and cufflinks. Or, simply invest in a pair for yourself to add a classic touch to your formal look.

Custom Cufflinks & Tie Clips at Morning Craft
•
Professional design suggestions, diversities colors and finishes available.
•
Individual tagging and packaging available.
•
Minimum and bulk order.
•
Low cost, high quality & fast delivery.
• Durable and stylish.
Contact us at [email protected] for custom cufflinks and tie clips sets, tell us your idea and budge, our sales engineers are happy to give you quotation together with some useful suggestions.


How to Make Cufflinks & Tie Clips
The next step after design is manufacturing, here, we are going to show you the full details of how your custom cufflinks and tie clips sets made: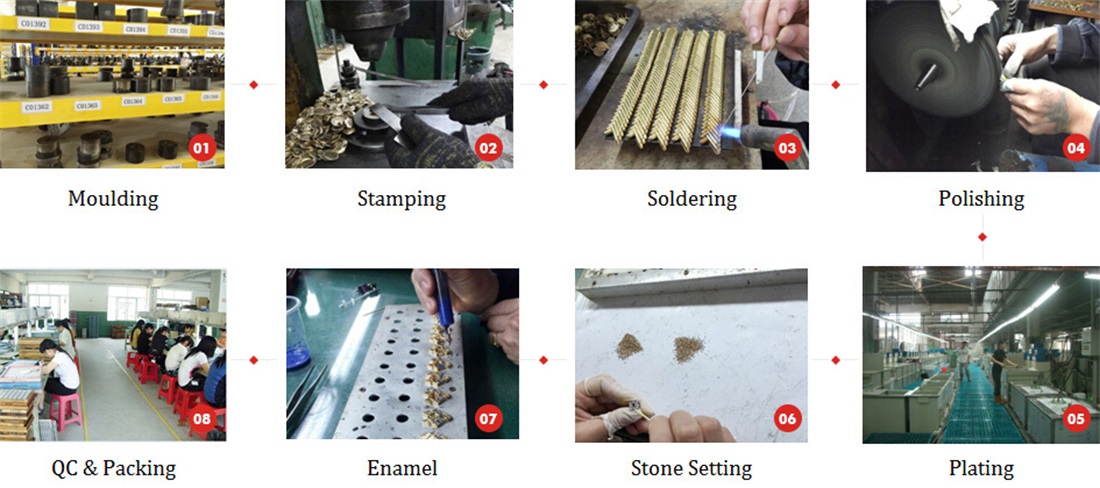 1. Tooling and Casting: according to your custom cufflinks and tie clips to build the molds by CNC cutting and EDM machining first, then selecting the corrected size casting machine to cast the parts. Typically the casting material is metal such as aluminum alloy, zinc alloy, copper etc.
2. Stamping: we apply with stamping process for the sheet metal parts, the commonly used sheet metal at Morning Craft is steel, aluminum, copper etc. We equip with a series of stamping machines to make your customized tie clips and cufflinks quickly.
3. Welding: we assemble the spare parts together by welding process, it is able to create a strong attachments by using silver solder.
4. Polishing: we polish the appearance and visible surfaces of the custom cufflinks and tie clips by using a three barrel polishing procedure or careful hand polishing brings. As the craft is small, we need to take care of it to ensure that personalized cufflinks and tie clips sets are good enough for the next cosmetic step.
5. Plating: This step involves cleaning, wiring and plating. The plating can have series colors to meet your expectation.
6. Stone Setting and Enamel: This is the step when the logo comes to life. Colored enamels are applied to create the design and produce the finished tie clips and cufflinks in the colors desired. Accuracy is maintained in this step, as the sections of the designs must have separate color applications. Our skilled enamelers are trained to accomplish this procedure and strive for the highest quality in reproducing a design or logo.
7. QC and Packing: every item is carefully inspected and approved to guarantee that they meet our ISO standards and customer is happy with the quality. Packing can follow with customer's requests.
How to Buy the Best Custom Cufflinks and Tie Clips?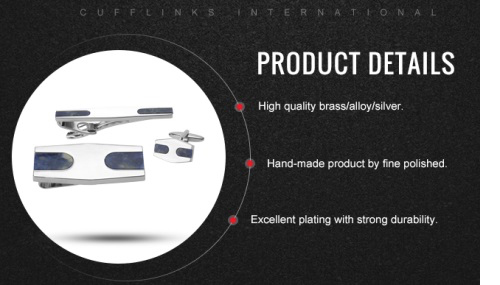 Cufflinks and tie clips sets are usually gift for Groomsman and marriage parties, ornament in fashion with a set tradition made of metal cufflinks, or a sleek inexpressive tie clips to include a unique accent to your group. Choosing a proper cufflinks and tie clips set is important. For some cufflinks and tie clip sets in preferred shape, initials, logo or pattern, you may need to customized. How can I buy the best Custom Cufflinks and Tie Clips? Here, we have suggestions:
1.Have an idea(shape, print, logo, quantities, price etc) about your expected cufflinks and tie clips, and write it down.
2.Sourcing from internet to check if any shop or supermarket nearby offer high quality tie clips and cufflinks.
3.If you can't have the prefer cufflinks and tie clips nearby, you can consider about the customized nearby or oversea.
4.Talk with the manufacturers, confirm what they can do, and check weather they have a good reputation, ask them to show some of their works, then you can confirm if they can make something you need. Made in China is one of good way to get high quality thing with less cost, Morning Craft is one of manufacturers who specialized in custom cufflinks and tie clips sets, contact us at [email protected] today to learn more!
Our Happy Customers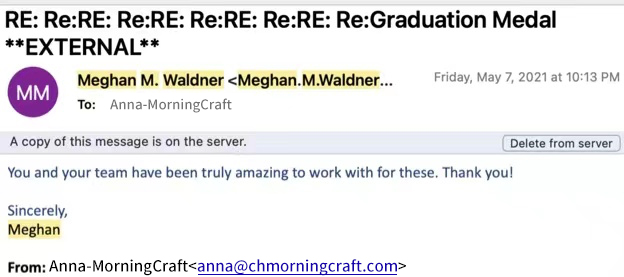 You and Your team have been truly amazing to work with for these. Thank you!
---------------------------------------- Sincerely, Meghan.




Hot Sale Cufflinks and Tie Clips Sets at Morning Craft
The following are some hot sale custom cufflinks and tie clips sets at Morning Craft. The people love the shape and style of these tie clips and cufflinks, we receive lots of positive feedbacks, want to custom your cufflinks and tie clips sets? Contact our team at [email protected] to learn more now!
Displaying 1 to 10 ( of 10 products)