Why Custom Keychains Make Your Business Stand Out?
Views: 469 Update date: Jun 17,2022
Keychain are popular and everybody needs. Cheap custom keychains for business promote your brand and your business effortlessly. If you are looking for a cost friendly item with long lasting for your business, look no further than cheap custom keychains. At Morning Craft, our cheap custom keychains are offered in a wide range of color and shape, they are fully customizable, handy and cost-effective.
Create cheap custom keychains for your business
Create your cheap custom keychains with your business details. For example, company logo, business logo, brand logo and slogan. You may also choose interesting model such as custom bottle opener keychains which are much more than the traditional keychains. At Morning Craft, we offer many interesting models like multi tool keychains, tapemeasure keychains and more. Our cheap custom keychains are stylish and affordable. They are the excellent choices as gift, store promotional items and more. No matter what feature your want, our craftsmen are able to do. We will help to bring together your customers' and employee's needs and build up strong relationships.
Cheap custom keychains are the high utility items for all occasion
Cheap custom keychains are the advertising item that build and unite your customers community. Cheap custom keychains with your customized logo make your employees and customers feel part of your company and brand which will help your business get better exposure.
Cheap custom keychains for events
When you visit a trade show, handout cheap custom keychains to the attendees and make your booth the busiest in the trade show. Create cheap custom keychains with your company name and contact details will help to get in touch for a follow-up enquiry. They are also the visibility business card which won't be discarded.
Cheap custom keychains for brand promotions
Cheap custom keychains are the great item for in-store promotions and online events. Cheap custom keychain can be a fun prize for contests or milestone gift if you send your customers cheap custom keychains with their purchase. They will visit your store again to thank the keychains.
Cheap custom keychains for welcome pack items
Cheap custom keychains are the popular welcome pack items in hotel and car show room. Cheap custom keychains are light weight, practical and compact. They will help you to earn some great review from customers.
Cheap custom keychains for employee gifts
If you are looking for business gifts for your employees or customers, cheap custom keychain is an ideal option. Custom keychains with your logo will make your recipients feel recognized and inspired. Cheap custom keychains can be used as welcome gifts for new recruits, birthdays, milestone events, holidays and farewell parties of employees. Cheap custom keychains help to build relationship and expand your brand.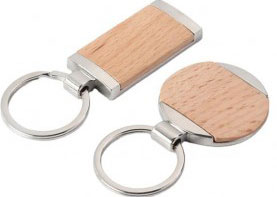 Advantages of cheap custom keychains
* Low cost
Custom keychains are cheap and are available at cheap price starting a few cents. Cheap custom keychains are ideal for many events such as trade shows, mailer campaigns and more. Custom keychain with customized message spread the word, engage the audience. They keep your logo in front of your customers for a long time.
* Easy to distribute
Custom keychains are small and sleek. They are easy to distribute in person during business events. Custom keychains easy interest among anyone who see them. Upgraded models such as bottle opener keychains are useful and interesting.
* High retention
Custom keychains are ideal for all situation such as road trips, shopping, holiday. Custom keychains not just hold keys together but are also fashionable accessories which are worth showing off. Custom keychains are also used to be highlight someone's bobbies or social commitment.
* Multi functions
Multi functions models such as flashlight keychains can be used as a handy item of light various situations. Multi functions keychains will give extra value to your customers.
If you want to learn more about cheap custom keychains for your business promotions, contact us today.
Prev News: Why Custom Made Keychains Are Always Popular
Next News: When And How to Wear Cufflinks and Tie Clips?