When And How to Wear Cufflinks and Tie Clips?
Views: 459 Update date: Jun 16,2022
If you want to upgrade you fashion sense but do know when and how to wear cufflinks and tie clips. You may have bought a cufflink and tie clip but can not decide how to wear them with your outfit. If you wonder when and how to wear cufflink and tie clip for certain events. Morning Craft is here to help you.
Six simple step to wear cufflinks
Choose a pair of cufflinks when you wear a French cuff shirt with cufflink holes.
Rotate the backing clasp on the cufflinks so the backing is parallel to the cufflink stem.
Fold the cuff of the shirt over, make the two holes aligned.
Push the backing end of the cufflink through the button hole.
Pinch both ends of cuff together. Bring the outer cuff outer closer. Push the cufflink through the holes.
Rotate the backing clasp. Keep the cuffs in position.
When to wear cufflinks?
* At black-tie events
Black-tie events are one of the common events you may want to wear cufflinks. Subtle cufflinks like classic cufflinks are the ideal option if you want something formal which will not attract too much attention. Tuxedo shirt and French cuff shirts are fastened with a set of cufflinks and studs.
* At white-tie events
White tie event is stricter when it comes to formality and tradition. Normally, white tie events have a dress code people expected to follow. If you want to know how to wear cufflinks at white-tie events, just check the specific dress codes listed in the invitation.
* At workplace
Cufflinks are frequently worn in the workplace. Wearing a pair of cufflinks may make you stand out from your competition. If you want to know when to wear cufflinks at workplace, please check if your workplace has a dress code, do you wear dress shirt at workplace and do you want to impress your colleagues?
How to wear cufflinks at formal occasions?
If you go to a formal occasion, you should choose a pair of cufflinks which compliments and are visible when wearing. The first thing is to select a dress shirt and jacket. Then, put on the jacket over the dress shirt and have your cuffs extend beyond the length of jacket sleeve when folded. Second, stick the cufflinks through the two holes in each cuff. Last, make sure your cufflinks can be seen when wearing a formal jacket.
How to wear cufflinks with other accessories?
When you want to wear cufflinks with other accessories, it is better to choose a theme to get a distinguished look. For example, when you wear Star Wars cufflinks, you may add star war accessories like star war tie or star war bow tie.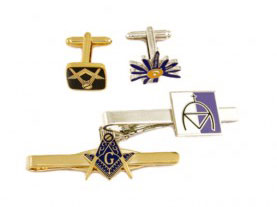 What is a tie clip?
A tie clip is a small metal piece used with a tie. A tie clip is to keep your tie in place by securing it to the shirt placket. A tie clip will add a fashionable accent to an outfit. At Morning Craft, there are many different options and designs available.
When to wear a tie clip?
* For smart casual look
If you like the smart casual look, for example, jeans with a shirt, tie and blazer, you will have a little fun with your tie clip. Unique designs which complement your outfit and speak your style will work well.
* For formal look
A tie clip is a great addition to formal outfits. If you have a wedding party, dinner or business event, accenting your suit, shirt and tie with a tie clip is excellent.
How to wear a tie clip?
Choose a thin tie clip for your skinny ties and big tie clip for wide tie.
Choose a hinged tie clip to keep a thicker tie in place.
Choose an understated tie clip to balance a patterned tie.
Choose a sleek and minimal tie clip for formal outfits.
Choose statement tie clips for smart casual attire which suit your personality.
Where does a tie clip go?
If you have a proper and polished look, place your tie clip just right. If the tie clip is too low or too high, it will throw off your whole look. Tie clip should be place around the middle of your sternum. Tie clips should be attached from the right to left to capture the tie and shirt placket.
To learn more about cufflinks and tie clips, contact us today.
Prev News: Why Custom Keychains Make Your Business Stand Out?
Next News: 10 Best Customized Trophies