Three Typical Styles of Custom Keychains
Views: 406 Update date: May 13,2021
If you want your own keychain can not be found it the market or if you want to have a personalized keychain which only belongs to you. You are in the right place. At Morning Craft, we make the best customized and personalized keychains for our customers. Having a personalized keychain is useful. If you have a common keychains, you will have a problem that your key will be exchanged with other else's keys because of the same design keychain. Having a custom made keychain helps to avoid this problem due to the unique design.
Moring Craft offers 3 Typical Styles of Custom Keychains
At Morning Craft, we specialized in crafting the best quality customized keychain. Just send us your desired design, we are able to make for you no matter what design you want. No worries if you feel difficult to find a perfect keychain and if you want a keychain that is designed just for you. Just contact us, we will make it for you. We have various keychains which we personal craft for our valuable customers. Every custom keychain is different because every customer's idea is different. No matter what ideas you have, we are able to make. We specialized in personalized photo keychains, Custom Bottle Opener keychains and custom name keychains.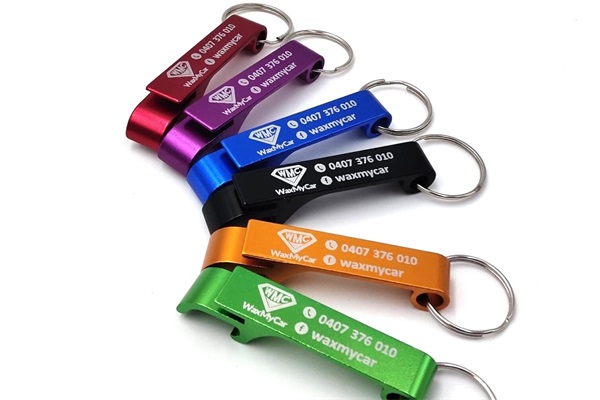 Personalized Photo Keychain
A personalized keychain with your own picture looks very great and easily recognizable for anyone. It is a cool gift to anyone. A photo is worth a thousand words. Putting a photo of your loved one with you one the keychain, you will have a feeling of being with him or her all the time. Share with your partner that you love him/her by a keychain of his/her photo or both of you together in a photo. Personalized photo keychains are also sweet gift for anyone's birthday. Just let us know what you want your keychain to look and whatever photo you have, our craftsmen will provide the best of our services to get you the best personalized photo keychains.
Custom Bottle Opener Keychains
A custom bottle opener keychain has a bottle opener with it. No matter you are home or outside, you don't need to worry about finding a bottle opener to pop up a bottle. Your bottle opener is just in your pocket with your keys. The custom bottle opener keychains are funny things which you will have you keys and bottle opener in your pocket. At Morning craft, you can choose your own design and requirement including size, color and style of the keychains. We will guide you the whole process and offer you the most suitable options.
Personalized Name Keychains
A keychain with a person's unique name is very helpful for those people who are not able to find a Custom Keychain with their name in the market. If you want a keychain with your name or if you don't want the same old fashioned style of name keychains. Contact us today. We make the personalized name keychains. Personalized name keychains are actually your name or anyone's name you want. It can be the unique style which can be find anywhere in the world. It is personal design for each customer and the designs are not repeated. A Personalized name keychain can be a nice gift to your partner or your love but it will will cost you too much.
Contact Morning Craft
Morning Craft, as your personalized keychains craftsmen, we will make the best best personalized keychains for you. We maintain our high quality and our products are durable which will remain with you for years. If you want cheap custom keychains, just come to us with your any name, any style, any design and any color, we ensure you will never think of throwing away of feel bored of these unique keychains. Contact us today!
Prev News: Custom Challenge Coins
Next News: Custom Challenge Coin Bottle Opener