Offset Printed Pins VS Soft Enamel Pins
Views: 908 Update date: May 04,2021
What is the different between enamel pins and offset printed. Offset pins are made from a photographic or digital file. Offer printed pins are lightweight, thin, cheap and fast to create. But the quality of offset printed pins are not too high. Enamel pins are versatile pins. Enamel pins have smooth and shiny enamel on thee inside. There are two different enamel process available.
Offset Printed Pins
Offset printed pins incorporate gradients, drop shadows or subtle color changes. They do not change or distort original design. Choices of colors, fonts or other types of design elements are unlimited. At Morning Craft, our team of craftsmen are dedicated to creating custom offset printed pins in different shape with stainless steel or brass metal. We use our high quality full color printing process to offset printed the pattern design onto the surface. We use clear epoxy resin to cover the imprint to protect the pin surface from being scratched. This epoxy domes will offer pin surface shiny effect while being a protective coating. And we also offer fade resistance to the face to custom lapel pins. To create high resolution offset pins, we suggest to send us artwork in high resolution to make sure pattern design are printed with sharp imagery. Offset printed are cheap and have a great look, They are the popular type and ideal choice for different events.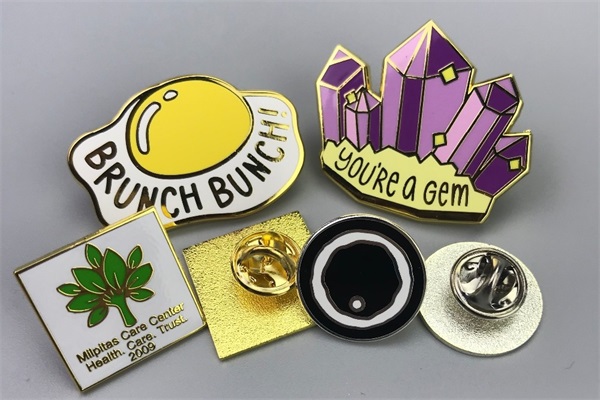 Enamel Pins
Compared to offset printed pins, enamel pins are more expensive and attractive. Their exquisite appearance and complex manufacturing processes. There are two different enamel pin styles: soft enamel pin and hard enamel pins. Both soft enamel pins and enamel pins have colors filled into enamel pins manually. Enamel pins can not make complex color and gradients.
Soft Enamel Pins
Soft enamel is not soft hand feeling. It is a popular color fill process, it is cheaper than hard enamel. The color of soft enamel is a liquid pigment which evaporates after baking process. There s a layer lower than the metal area for color filled in. Liquid enamel is filled into the recessed areas by a tiny needle and surrounded by raised line metal to contain the enamel. Soft enamel pins looks layered and beautiful because of the different heights. If you rub your fingers over your soft enamel pin, you will feel this layered feeling.
Hard Enamel Pins
The hard enamel is a multi-step process. This process is high quality and widely used in jewelry, vases and other high-end handicrafts. Hard enamel pins have smooth and glossy surface. Hard enamel pigment is a fine-grain solid pigment. The hard enamel color material is added again and again to match the height of the raised metal line. So, the image is same level with based metal. After this adding process, it is heated under high temperature to harden and polish. Hard enamel process is often made from great material so it cost more compared with soft enamel process. Hard enamel pin color is brilliant and shiny. It is an ideal choice when customers want a high quality Custom Metal Badge or pin. Enamel pins are high perceived. They are attractive items for promotions, team building , fund raising, gift, trade shows and more.
Contact Morning Craft for Custom Metal Badges and Custom Metal Pins
As your personal craftsmen, our quality control inspectors ensure all custom pins meet customer's requirements. We are able to take your unique design and turn them into real great pieces by our finest craftsmanship. If you are looking for custom lapel pins or custom metal badges, please send your artwork by emailing [email protected] or directly contact us at +86 134 2023 5742. You can also fill out our request for quote form: just answer a few very simple question. It is very easy to achieve your unique pins.
Prev News: Zinc Alloy Medallion Medals
Next News: Tie Pins, Tie Clips, and Tie Bars