How to Print a Photo On A Customized Keychain?
Views: 163 Update date: Feb 24,2022
Creating customized keychains by printing image, text, themes, names and designed can be more attractive. At Morning Craft, you can print your favorite picture on customized keychains in high definition quality. Your custom keychains with photo are the best gift idea. It can be given on birthday, anniversaries and festival such New Year, Christmas, Valentine's Day and more. Custom keychain with photo is inexpensive and could be carried anytime and anywhere. Custom keychain can be used by all kinds of keys, such as car keys, bike keys, home keys and more.
How to print a photo on a customized keychain?
A photo can be printed on a custom keychain by heat transfer and sublimation technologies. Here are the two steps to print a photo.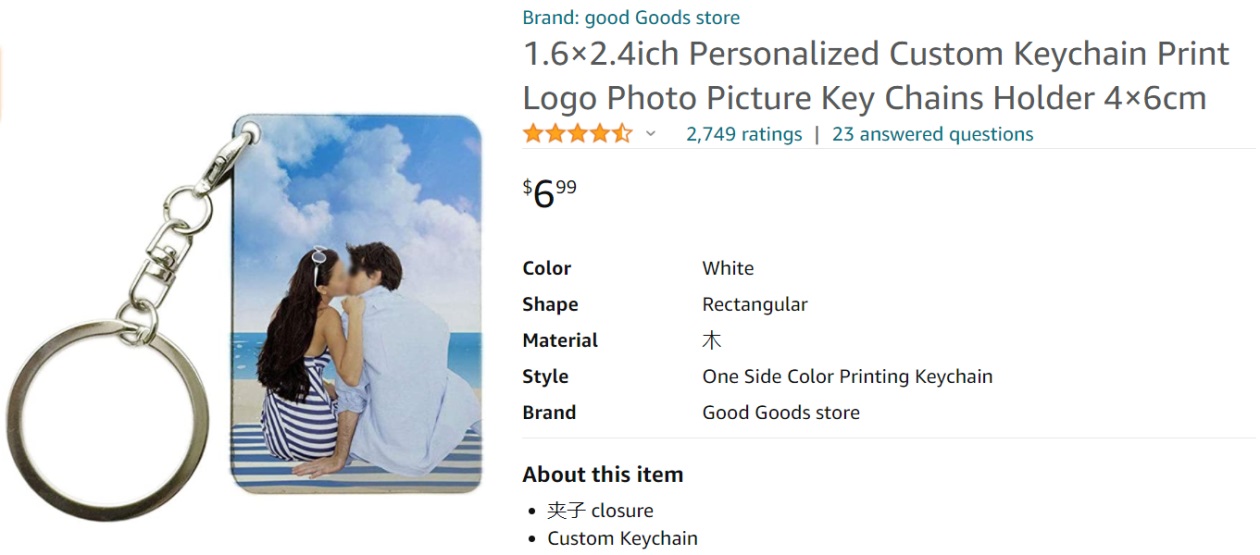 Step 1. The image is printed on a transfer paper with sublimation ink which can print in unlimited color and shades. The transfer paper has image printed on it like a mirror image because on printing, the photo reverses itself. The size and shape is the same as the size and shape of the keychain. It can be in heart shape, circular, square and any other shapes. The most common keychain size is around 4 or 5cm in diameter in circular shape. And the square and rectangular shape is around 4 or 5cm in width.
Step 2. The second step is transferring the image on the keychain by a heat transfer machine or a heat press. The first thing is to place the photo facing down into the keychain and attach it with heat tape. Keep the photo in the heat press machine and make sure there is no bubble or space between photo and keychains. The image is transferred to the customized keychain and will never wear off from the keychain. It will take only a few minutes to finish this process.
Above are the two main steps to print an image on customized keychain. It is completely customized as unique design. You can also print you name on the customized keychain. Any text, photo, design can be printed on the surface of the keychain by these technologies.
Moring Craft Creates Types of Customized Keychains
At Morning Craft, we will the following types of customized keychains to print the photo.
Square Keychain
Square shape keychains are square and are in 5cm in width or height. Square shape keychain in MDF wood which makes it more durable. The photo printed on the square keychain will never wash off from the surface of the keychain.
Circle Keychains
Circle keychains ae made out of MDF material and are in 5cm diameter. Circle keychains has a universal shape and appeal. Circle keychains with photo printed can be used in many events, such as birthday, anniversaries, everyday use and more. The photo printed on the circle keychain is in a circular shape like a keyring.
Heart Shape Keychain
Heart shape keychains have a 5cm maximum width. They are printed for someone's loved ones on many occasions. The edges of the heat shape is round and smooth, so the keychains are easy to carry around.
Triangle Keychains
Triangle keychains have three 5cm sides. The edges of triangle keychains are smooth and soft which make them comfortable to carry in the pockets.
Rectangular Keychain
The dimension of rectangular keychain is around 4.8cm on the shorter side and 6.8cm on the longer sides. The corner of rectangular is rounded and not pointed.
Oval Keychain
Oval keychain is an extension of circular keychains. The size is around 6.5cm * 4.5cm. The photo printed on oval keychain is in oval shape.
Order Your Custom Keychain with Photo
At Morning Craft, keychains are easy to design and print with photo. If you have any questions regarding printing keychains, custom keychain with photo etc, placing orders and more, contact us today. We are happy to assist you.
Prev News: Customized Badges - Design Techniques and Surface Finish
Next News: Create Customized Keychains for Any Occasion