Customized Keychains – Laser Engraving Services and Packaging
Views: 97 Update date: Mar 16,2022
No matter you want metal engraved product for your brand promotion or want custom logo keychains with personal message engraved on, Morning Craft offer a dedicated and premium laser engraving services to meet your budgets. Morning Craft, we are the leading laser engraving service, our advanced equipment and experienced team provide high quality custom logo keychains with engraved logo.
Why Laser Engraving?
When it comes to make a clear and durable finish on custom keychain metal, metal laser engraving is an idea method. Laser engraving is an extreme durable technology which is cheap than using tooling for small bath and creates precise design fast on engraved item.
What Products Can Be Laser Engraved?
When it comes to laser engraving, there is no limitation. At Morning Craft, our popular engraved items include engraved custom logo keychains, engraved cufflinks, engraved badge, engraved coins, engraved medals and more. If you want to make engraved metal products, just simply contact our team to find out about our customized laser engraving services and we are ready to help.
What is Laser Engraving Process?
At Morning Craft, we offer high quality metal engraving with our advanced laser engraving methods. Our experienced team is able to create a design which suit for customized laser engraving. At Morning Craft, we offer full process laser engraving services to keep everything from design to manufacturer at lower costs.
Why Choose Morning Craft's laser Engraving Services?
At Morning Craft, we have been laser engraving items for individuals and business for more than 10 years. We have kept our techniques up to date while maintaining the same level of quality. Our dedicated engraving team aim at provide the highest quality laser engraving.
What Type of Customized Laser Engravings do we offer?
When it comes to laser engraving, we work hard to make high quality products. If you are looking for metal engraving for business, we can create customized design based on your brand logo for item like badges, cufflinks, coins, cufflinks and more. We can laser engrave metal surface with a durable and distinct design which will be treasured for years. We make you message stand out!
Contact Us for Your Custom Laser Engraving Now
Morning Craft, as the top choice for engraved custom logo keychains manufacturer, we offer competitive price, a fast turnaround which does not compromise on quality. If you are looking for a premium laser engraving service which meet you budget, contact us today to find more about our laser engraving services.
Why us Customized Packaging?
No matter our are selling custom logo keychain or want to make promotional items, customized packing can make your products with a one of a kind look which stands our from other competition. When it comes to making customized packaging for business, getting it on brand is important.
Why Use Customized Packaging?
If you want to make your brand stand out at event or product sales, customized branded packaging is an ideal way. For example, creating a branded box will make your brand visible from the start. Customized brand boxes with logos creates an image while promoting your brand.
How Can Customized Packaging Promote Your Brand?
If you want an easy way to promote your brand, custom printed packing is a good way. For example, making a packing box with your brand or logo printed on to hold your promotional product, potential customers will see who you are at a distance. If you are a charity want to raise money from sales of custom logo keychain, customized badges or other products, the branded boxes will share your charity's message what you are raising money for. The branded box shows the type of charity products. Customized packaging add the fun to your item, no matter what types of your business or organization.
What Types of Custom Packages?
When it comes to creating branded packaging, there are many different options available. At Morning Craft, we are able to create branded boxes, custom backing card and other to spread word of customers' brand and message.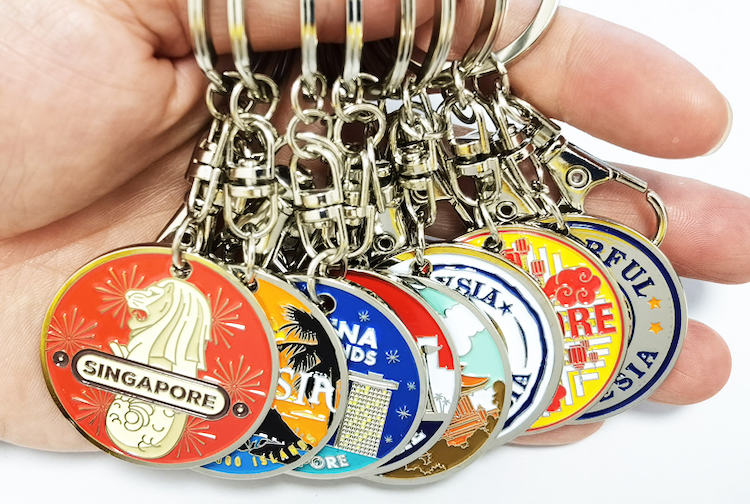 If you are selling custom logo keychain, our customized branded backing card are a great option. Branded backing card can be printed with company, organization or brand logo, and any information you want with an excellent finishing touch. Our backing card can be used for custom logo keychains, badges, coins, medals, cufflinks, bottle openers and more. We are also able to create high quality branded boxes for presentation to make your brand more memorable.
Contact Us to Make Custom Logo Keychains with Customized Packaging
No matter you are looking for customized cardboard box or printed packaging to display your custom logo keychains, our team is ready to help. We will work with you to create design which works for your organization. Your customized packaging will made with high quality materials. To learn more about our customized packaging services, contact us today.
Prev News: How to Avoid Mistakes When Creating Customized Badges?
Next News: When to Use Custom Logo Keychains?