Custom Metal Decals
Views: 728 Update date: Jun 11,2021
Custom metal decals are a cost effective way to promote business or new product and identify the assets. At Morning Craft, our custom metal decals can be used as asset identification tag. Our experienced craftsmen are able to include barcode, QR code, UID marking on custom decals. We provide custom safety decals which help to promote safe work atmospheres. Our safety decals are a cost-effective way to follow government guidelines to meet safety regulations. At Morning Craft, we can make custom metal decals with customers' specifications. We are able to work each client to develop unique decals to meet their requirement. We have ability to produce custom decals, barcode decals, UIC decals etc in both small and large quantities. Contact us right now to get a free quote or work with your team to development the most suitable solution to meet your unique needs.
Metal Decals Are Used Widely
Decals are widely used for many applications and purposes. Information can be placed on the decals. For example, a logo, badge, emblem, nameplate, a car decal etc. Decals must have self-adhesive backing. It is impossible to use the hole in the plastic material to place the decals. When customers insist on using the holes for placement, our craftsmen will recommend metal tag. Decals and labels are not the most durable tag. There are not as resilient as metal tags. Decals have a potential issue that they are attempted to be adhered to a rough or not flat surface. This issue needs to be improved case by case depending on materials, size, shape, adhesive, surface and more. At Morning Craft, our team of craftsmen will work with customers to confirm if the decals will work on their needed surface. Decals are a very popular item because they are easy to use. People can easily remove the decal from the roll and place on the needed surface. At Morning Craft, our craftsmen assist customers to make their unique decals. When customers need high quantities of tags on a frequent basis, we would suggest to using sticker decals. There is no holes, no fasteners, no ring and other expertise or tools need. People can easily DIY their decals. If they can place a car sticker, then they can place a decal. Decals are widely used in various industries such as aerospace, transportation, energy , government, medical, healthcare etc.
Custom Metal Decals
There are various material options for decal printing, which includes polyester, vinyl, lexan, magnetic, static cling, VOID, reflective and more. Different material has its own features. And it is suitable for certain applications. If customers are not sure which material to choose, we will send them samples and help them to figure out the most suited material. Full color design makes the decals stand out from other items. With other items, like anodized aluminum tag or chrome, customers are usually confined to a single color (solid hue). With decals, customers could have as many colors as they need. Customers will feel free and flexible to design decals with different colors. At Morning Craft, we are able to make Custom Metal Decals. Any picture, any color, and design is welcome.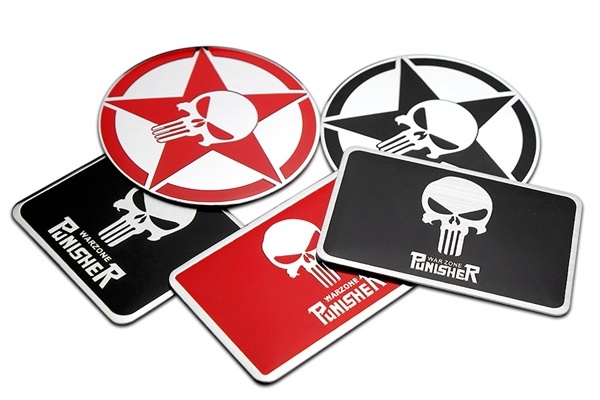 Contact Morning Craft
If you need custom metal decals, contact us at [email protected] today. Our experienced team of craftsmen are able to use any image, make any shape, use any colors. We are able to make lettering decasl to fit into required placement and include information and barcodes. Our printed decals can be crafted in any shape. If you want badges decals, it can be done as well.
Prev News: How To Create The Metal Logo Plates
Next News: We Craft The Suitable Badges For You