Creating High Quality Customized Coins
Views: 560 Update date: Jan 05,2023
Here at Morning Craft, we create high-quality custom coins for companies, the army, law enforcement, and more. As a leading customized coins manufacturer in China, we can create customized coins with a consecutive number, epoxy, color-filled and engraved logo. Our craftsmen can bring your design to life. Our custom coins at Morning Craft are created with an endless combination of shapes, materials, and styles. You can choose enamel, special shapes, or die-cut edges. We can add texture to the mold to create a one-of-a-kind coin if you want to texture.
What are customized coins made out of?
1, Bronze–Bronze is one of the strongest metal materials used in creating coins.
2, Brass–Like bronze, brass is strong. But brass provides better detailing.
3, Copper–Copper is the best metal to create 3D coins.
4, Zinc–Zinc is a great choice when creating custom coins with small details and cutouts.
What are the processes for creating customized coins?
The first step to creating coins is design and customer service. Our designers will choose the best options to meet your requirement, which includes size, shape, color, finish, and packaging. We will send you a proof for approval before we begin mass production. It usually takes one day to complete the design artwork. Our production lead time is around 10-15 days when the digital proof is approved.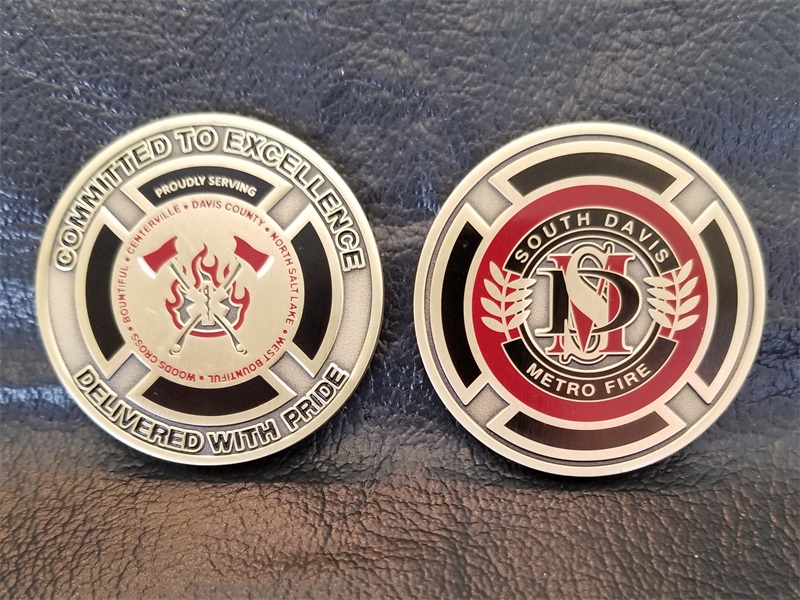 What are the options and techniques for customized coins?
Minting: It is a process of pressing an image into the metal. Minting can create a mirror-like surface.
2D images: It has two layers with a background and raised surface. It is ideal for silhouettes. This option is thin and lightweight, and the cost for this option is low.
3D images: It can create details that are impossible in two dimensions. 3D image accommodates raised and recess areas and curves. It is great for creating the logo with people, animals, and landscapes.
Diamond cut edges in wave cuts and rope styles: Here at Morning Craft, we offer a large selection of edges selections.
Engraving: Here at Morning Craft, we can engrave numbers, words, phrases, and more.
Enamel color
Enameling is a good way to enhance the design and maintain logos. We offer soft and hard enamel for different types of designs.
Soft enamel: Soft enamel fills the color into a recessed area and raises the metal edges. We at Morning Craft have a wide range of colors and textures. The only limitation is your imagination.
Hard enamel: Hard enamel is one of the highest quality options. Hard enamel is smooth and has a durable finish.
Plating customized coins–Plating and epoxy offer different finishes and colors.
The plating changes the look and feel of your coins. Epoxy protects your coins. Here at Morning Craft, we can apply epoxy in different thicknesses ranging from a thin layer to a thick layer. Epoxy prevents fading, tarnishing, and scratching. Here at Morning Craft, we offer antique plating and shiny plating, which include antique copper, bronze, silver, gold, and black.
Dual plating: Dual plating is commonly used in military coins, 3D coins, and recessed areas.
Customized shape coins: Here at Morning Craft, we can create customized coins in any shape, including cutout areas. These coins are struck into brass or bronze medal. They can be cast if you need 3D coins. We can adjust the thickness. We can distinguish images with spot epoxy and leave other areas without epoxy.
Texture: the texture is a great way to create contrast and dimension. Here at Morning Craft, we have more than ten texture options.
How much does it cost to create a customized coin?
Unit cost for custom coins depends on the size, metal, and complexity level. Soft enamel or hard enamel will increase the cost. It will cost around USD$3–USD$4 for a basic design. The mold cost depends on the number of coins they will create.
Low MOQ, Quick Production, and Fast Shipping
Customized coins, customized keychains, custom race medal, custom tie clip, custom bottle opener keychain can be made in just few days at Morning Craft. If you want to create your coins, start by requesting a quote. We provide DHL, FedEx, and UPS shipping. We will send you proof for approval before mass production. We will meet your budget, and your satisfaction is our goal. Contact us today!
Prev News: Is it Good to Have Metallic Enamel In My Customized Coins?
Next News: How to Advertise with Bottle Opener?