Craft A Medallion Medal
Views: 854 Update date: Jan 14,2021
Have you ever create medallion medals for athletic group, company, organization member for special events? Receiving a highly-customized medallion medal with good quality enamel, raised details and unique shape will feel appreciated and honored. Customized medallion medal is a personal way to remember athletes, teammates, stakeholders and awardees' attributes or special occasion. If you are looking for a simple way to craft your custom medallion medals, Morning Craft is ready to help even you need just low minimum order quantities in different styles. This article is showing the ways to make custom medallion medals step by step.
Firstly, you should select your medallion medal size, normally, the size is 1 to 5 inches. And think about if you need one sided or double sided medal? Then, determine your order quantity, meaning the number of recipients you are going to reward.
Secondly, choose a medallion medal style. There are various styles available like soft enamel, hard enamel, die struck, off-set printing and more. Soft enamel will show all details and raising area of the medal. Hard enamel is a flat and smooth surface. Like the raised coin, die struck is the traditional metal type. Off-set printing offer rich photo details. There are many different material color and finish available like shiny, matte, antique and more.
Thirdly, choose the lanyard include width, color, pattern, printing etc. And determine the packaging, for example plastic poly bag, velvet bags, packing box.
When you determine all these details listed above, just upload or send us your artwork. Our team of experienced craft-men will turn your artwork into real medallion metals.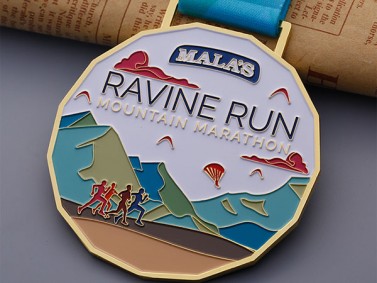 If you are looking for help to create medallion medals to reward champions, team captains or someone who did something great. Please contact us. Morning Craft is a professional manufacturer of promotional items. We specialize in bespoke medallion medals, coins, keychains, badge, lapel pins, trolley coin keychains, dag tags, bottle openers, cufflinks & tie clips and many more promotional items. We have over 15 years history of working with Schools & Universities, Charities & Fundraising, Corporate, Clubs, Associations, Public Sector, Consumer Brands and Agencies to create bespoke items for their needs and branding.Our process is simple and straight forward. We serve you in quick turnaround time without any mistakes in personalisation. Our reputation for customer satisfaction is something we work seriously hard to maintain!

Prev News: Personalized Trolley Coin Keyrings
Next News: 10 Perfect New Year Wishes for 2021 to Send to Everyone