Trolley Tokens Are Practical Promotional Items
Views: 1003 Update date: Mar 27,2021
Customized trolley tokens are a good way to have your company name, brand or contact details in front of your customers on a regular basis. You will increase positive feelings towards by gifting practical and functional items. They are desirable and increase the number of times that customers interact with them. Trolley tokens are lees to be overlooked and discarded. Trolley tokens are used in the place where pound coin that last minute panic and frustration. Every token has a keyring so it can be attached to house keys and make sure you will not leave home without it.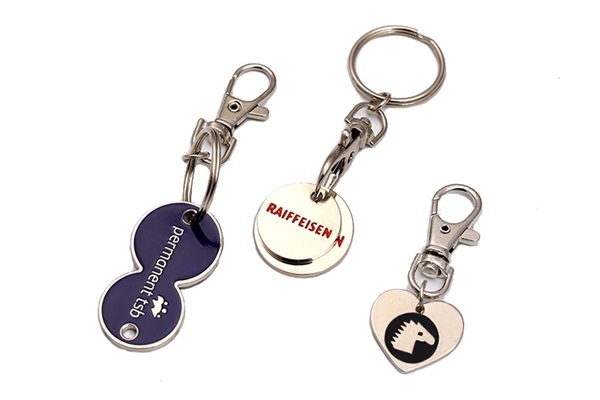 Compared to other marketing items, trolley token are a cost-effective option. Trolley token last longer than other promotional items. They have a practical and encourage repeat exposure. Trolley tokens small and lightweight to sent directly and placed into packs and handed out at events.
Trolley Tokens Brands
At Morning Craft, we specialize in producing branded trolley tokens such as Disney Trolley Token, Trolley Tokens Poundland and personalized trolley tokens. We produced 12 sided or 1 dollar coins for supermarket trolleys, sports clubs, gym locker, swimming pools, special events, trade show, charity, stations and airports etc. We provide plastic and metal trolley tokens. Our products can be customized in many ways in order to promote your company or brand. We offer four color to match any color or color mix from pantone color chart. One and double-sided printing or engraving is our option as well. We are able to add customers' logo and information to make sure their message can be seen clearly. Our personalized trolley tokens are the most effective promotional items in the market. Trolley tokens make sure that your company logo, brand logo or contact details are seen once they are be used. Just attach the trolley token to your key rings when you need a coin for trolley or locker and detach the token. Trolley token keyrings are used time and time again Your customers will not forget you.
There are a variety of styles available in trolley tokens. For example, popular classic coin and wishbones. At Morning Craft, we are able to apply your unique design to our existing styles. Our personalized trolley tokens are available in any shapes like car, van tractor and more. We provide generic deign trolley tokens which can be ordered for wholesales or purchased as gift.
Trolley Tokens Are Practical Promotional Items
Trolley tokens are useful and affordable. Morning Craft has been specializing in crafting shopping trolley token key ring for over ten years. We are confident that our products will meet and even exceed customers' expectation. We are proud to provide customers with quality assurance of our products. And we also proud that our factory is recognized. Our products can meet EN71 and Sedex approved S000000032516. Our factory passed audit cover aspects like waste management, hygiene, health and safety, child and young labor, labor practices, forced labor, worker representations, discrimination. We have ever produced more than millions trolley tokens to customers all around the world. We serve global market including authorities, corporate companies, charitable organizations, wedding favours and more. Our experienced and helpful team of craft men will work closely with customers every stage of their orders to make sure they will be 100% satisfied to the orders.
Customers can choose from standard token, full color ECO recyclable plastic token, chrome house shape wishbone holder or our latest extended oval trolley tokens. We offer samples that customers can test the quality and the fastest delivery times. Our products are at affordable prices and with a genuine lifetime guarantee.
Contact Morning Craft
Please do not hesitate to call or email us at [email protected] your requirements. We are looking forward to speaking to you.
Prev News: Personalized Cufflinks and Tie Clip Set
Next News: Make Your Promotional Trolley Coin Keyrings