Personalized Cufflinks and Tie Clip Set
Views: 824 Update date: Apr 02,2021
Custom personalized cufflinks and tie clip set to your own personal style! At Morning Craft, we have the perfect cufflinks and tie clip set to complete your look. Personalized and fashionable engraved cufflinks and tie clips easily add polish to people's every day wear. A classic tie clip offer wardrobe essentials which every well-dressed man needs. Our in-house Engraved Custom Tie Clips for Groomsmen are perfect for any occasion.
Personalized Cufflinks and Tie Clip Set
Cufflinks are one of the great way to polish off people's look and take their style to he next level. When it comes to cufflinks, there are two examples that cufflinks are a must. They are black and white tie events. These are the event that people must break out your best and favorite suit. When people choose their cufflinks for these events, you are trying to look to be the best. Dress to impress, remember to show unique style and individuality. Today's fashion trends focused on personality. When a pair of cufflinks has unique design, something represents the favorite hobbies or random.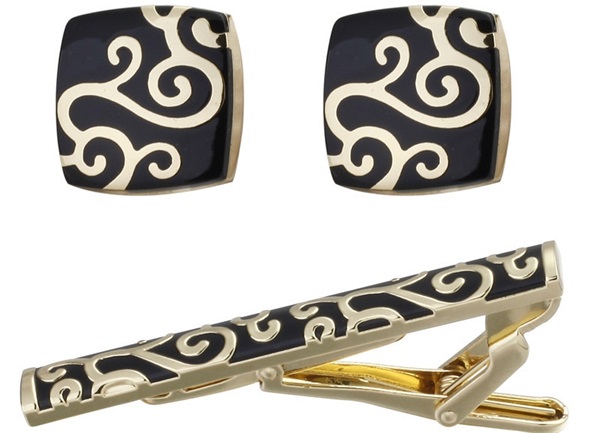 When people want to stay on the more traditional path is at the most formal of white tie event. When it is a wedding party, it is formal. At while tie events, the only one type of cufflinks is elegant, stunning. There cufflinks are elegant, high-fashionable and classic. They always look stunning and make people stand out. You will never go wrong with peal cufflinks at white tie events.
Cufflinks and Tie Clip Set Manufacturer
At Morning Craft, we have covered many formal events. Let's get into the creative and unique elements of cufflinks. Cufflinks are usually worn at formal and business events. Enthusiasts are using cufflinks to make their style different from others. Except for formal events, there is some cases that people want to be more creative and shine. For example, if people go to the interview, they will dress for the job they want. People go to a date, an important meeting, a stylish party, and wherever they need to stand. Cufflinks are ideal for all these occasions.
Make Your Cufflinks and Tie Clip Set Today!
The most important thing to know when and where to bring out cufflinks is the dress shirt. People will know if the cufflinks are right based on the cuffs. The first thing is to look at the buttonholes. If there is no button, it is a shirt meant for cufflinks. Most shirt requests cufflinks will have one of three cuff types.
Barrel cuffs are the most common type of cuff on modern dress shirt. There are one or two buttons on those shirt sleeves. In some style, there is no button and people can put their favorite parts of cufflinks. French cuffs are more formal than barrel cuffs. French cuffs have an extra length which is folded back with a pair of cufflinks. French cuffs are very popular in formal events. It appears more and more in business events. Single cuffs are considered to be the most formal cuff style. It has double cuffs with fold and fastened with cufflinks. Shirt with a single cuffs are worn in very formal event such as black and white tie event.
Cufflinks take people's style to the next level. Cufflinks are about personality and style. If you have a excellent shirt with buttons, you can remove the buttons and add a pair of cufflinks to express yourself.
Contact Morning Craft for Personalized Cufflinks and Tipe Clip Sets
As always, if you want personalized Engraved Cufflinks, just give us a call at +86 134 2023 5742 or email us at [email protected]. Our experienced team of craft men is amazing in helping customers to make your unique Cufflinks and Tie Clip Set exactly meet your requirements. We are ready and waiting to help you. Let us make your special day more stylish.
Prev News: Personalized Badges to Raise Funds for Charity
Next News: Trolley Tokens Are Practical Promotional Items