Shopping Trolley Tokens
Views: 1218 Update date: Mar 13,2021
When people go to the supermarket, they will realize that they have forgotten a coin for the trolley. So, customized shopping trolley token is a popular way to promote a company or a brand. Customers and potential customers will thank this convenience by handing out at special events. Customized shopping trolley tokens with branded logo are spreading business around the word by each time being used. At Morning Craft, we supply customized trolley coins, Charity Shopping Trolley Tokens etc in a wide range of colors, style, shapes. A various selection of keyring will suit your company and your brand. All the items we supply can have your logo printed or engraved. Just let us know how and what you would like your trolley tokens to look. Our experienced craft men are always provide the best products. Check out our item collections here at Morning Craft, you might be also interested to other promotional items like bottle open, keychains, personalized dog tag, custom lapel pins and more. Just contact us for a free quote and our team is happy to give you a hand.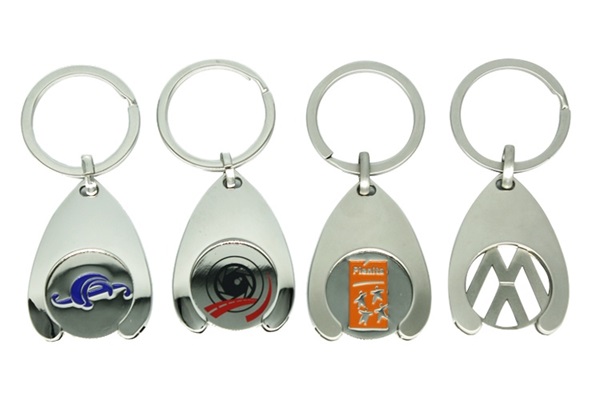 Why Shopping Your Trolley Tokens at Morning Craft?
Morning Craft is a trusted manufacturer of metal products and metal promotional items. As trolley tokens are used every single day at shopping centre, supermarket, special event, charity. They can keep company name or brand logo in front of the right people. So, trolley token are a good promotional tools.
Benefits of Trolley Tokens
A shopping trolley token offer various benefits and convenience. Many people will feel frustrated when they do not have a coin ready to get a shopping trolley. A shopping trolley token with branded logo helps to avoid this embarrassing problem. Shopping trolleys are affordable, eye-catching accessories which create impressive promotional results. Trolley token are branded with a company name or logo which attract attentions instead of being forgotten. For a small and one time investment, trolley token contribute to brand awareness for years.
While Trolley Tokens are functional, straightforward, affordable and attractive. There are a variety of attractive, durable finishes and styles of promotional items available as well.
With raised branding, polished, molded coins are simple and beautiful. Finishes is ranging from shiny gold to antique brass which impresses recipients easily. Stamped, enamel-filled coins are with a striking logo or brand name. This simple and elegant customized coin always stands out. Photo-etched enamel has more color added but retains a bold character. It is a special presence as the photographic process reveal shiny metal underneath swaths of durable and colorful enamel. Screen printed epoxy dome coating includes a silk screened picture which is protected by a layer of acrylic. This style allows more details and it is a popular choice. Full color epoxy dome printing allow to produce any branding accurately even for small scales. And durable acrylic epoxy makes sure that the imagery is protected. Clip-style key rings allow to removing the coin easily from an integrated snap hook. When the trolley is returned, the token is released and snapped back on to the key ring easily. Holder-equipped key rings allow to slid out or back the coin simply even with only a single hand free. Two-sided key rings do double duty, each side of the token mimicking a coin of different denomination. It is very useful and offering more space for branding.
Contact Morning Craft to Shop Trolley Tokens
Morning Craft, as a leader shopping trolley tokens manufacturer in China. Our team of craft men are ready to help global customers who need personalize shopping trolley tokens -Walmart to spread their business. We offer price-match guarantee, quality guarantee, fast turnaround. Our process is easy and straightforward. Contact us at [email protected] today to learn more about these useful, affordable products to spread your brand.
Prev News: Make Your Promotional Trolley Coin Keyrings
Next News: Personalized Trolley Coin Keyrings