How To Make Custom Keychains
Views: 714 Update date: Jul 28,2021
Losing the keys happens to everyone quite often. No matter house keys, car keys, work keys or other keys, keychains are the best thing to keep track easily. Keychains is also a good way to show offer someone's personality. So, custom keychains is a funny and cost-effective thing for your customer. Cool Keychains are lightweight, useful. You can also do free advertisement by making custom keychains with your company or brand logo.
As custom keychains are cheap, they are ideal promotional products. Custom keychains can free gift for customers, appreciation gift for employee and more. At Morning Craft, you don't need to DIY thousand of keychains to sell or to resort to give wholesale keychains. Our team of craftsmen are able to create custom keychains for promotional giveaways. We have no minimum order quantities and endless personal options. Our craftsmen always offer 100% satisfaction guaranteed. You just need to choose your keychain type, send us your design, approve the sample and sell your keychains. This article will guide you how to make custom keychains.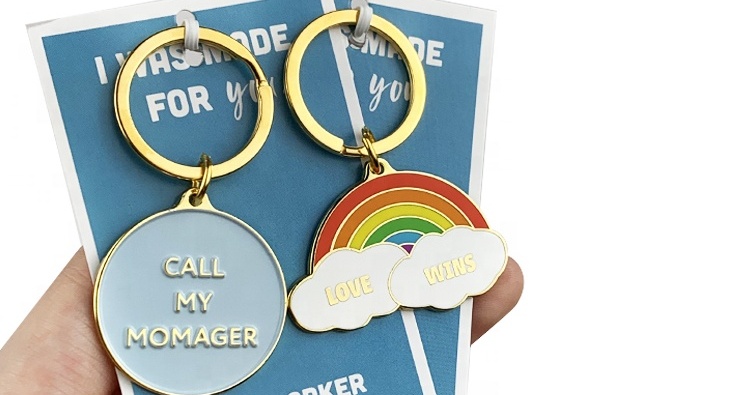 The first thing is to find a reliable manufacturer like Morning Craft to make your custom keychains like Cute Keychains For Car Keys. Our professional team will help to save a lot of time and end up with a better and uniform product. As a leading keychain manufacturer, we will make the whole process simple and customize keychains with high quality at the lowest price. We offer multiple keychain types and customization options, superior customer service, minimum order quantities, fast turnaround time, low cost and customer satisfaction guaranteed.
The second thing is to choose your keychain type that you want to make. The type of keychain will affect the look, functionality, cost and customization options. Embroidered keychains are soft and lightweight. There are many color and thread option available. Metal keychains are sturdy and durable.There are many enamel option and finishes available. PVC keychains are durable, they can withstand messiest adventures. Design of PVC keychains is flexible and vibrant. There are unlimited color options.
The third thing is to personalized your keychains. When you have chosen the type of keychains and determine how many unit you will order. You can begin customize your keychains. Consider the size, the length, the width of the keychain. Select if you want both sides design. Select how many color you want. Choose the attachment types. There are many different attachment type available, for example, a split ring with chain, a split ring with metal jump or plastic link, a lobster claw with metal jump link, a split ring with rope and more. Choose the color or finish. For metal keychains, there are shiny gold, silver, gunmetal, nickel, antique nickle , antique brass, antique silver, antique gold , brushed brass and more available. Choose packing way you like. You can put your keycahin into a clear ply bags, velvet box, velvet pouches etc.
The fourth thing is to design the keychains. Sketch our a design simply in PDF, JPG, AI or other format. You can also add some additional notes om your artwork if you want.
The fifth thing is to approve a mockup. Our craftsmen will provide you with a mockup before mass production. We will send you a physical or photographed prototype for approval. If you think everything is good, we will run into mass production. If it is no good, we will do revision according to your feedback until it is perfect. Once we finish production, we will ship your custom keychains within your quoted timeline. Then, you can use them as your promotional items .
It you need help on your custom keychains, contact Morning Craft at [email protected] today!
Prev News: Trolley Coin Custom Made Keychains
Next News: Custom Your Personalized Tie Bar