Custom Badges Promote Your Business
Views: 687 Update date: Jun 03,2021
Providing customers with custom made metal badges is a very good way to lean a lasting impression on customer. Cheap Custom Metal Badges have been used as promotional items for many years. Companies will take advantages of using custom metal badges to promote their business.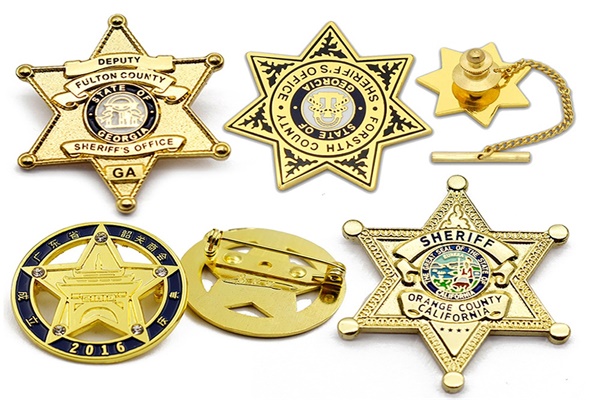 Custom Metal Badges as Promotional Items
If companies give their customers a business card, their customers may throw away in a very short time. Custom made metal badges may stay around as customers will not throw the useful things. The longer customers keep the badges, the longer they will remember the companies or the brands. Badges act as a reminder of one's business. And customers will see the company or brand logo when they need services. Promotional badges can replace business. Customers will keep the promotional badges longer than business card. Promotional badges are more cost-effective as companies will not need to give the business cards to the same customers. Although a business card is instantly recognizable as it has company name or brand logo. Custom badges are eye-catching. When the badges have attractive design, customers will recognize the company at once and will associate the company and product with badge. Just send us your attractive design, we will craft your unique badges. Your unique badges can be put on a bag for everybody around them to see. Sometimes, promotional items are expensive. But cheap custom metal badges is cost-effective. Other promotional items may costly and take times to make. Customers can put the badge anywhere as a reminder of company. Customer are exciting when they get free gift even if just a badge. Customers will think it is a greater effort made by the companies to show the care. Printing a message instead of only a logo will remind customers that they come first. When customers see the message, they may want to share it with their friends and potential customers.
Making Your Own Custom Badges
Making custom badges are a fun and adorable way. Below is the step-by-step instructions to create custom badges.
The first thing is to check the measurements
Before you do anything, figure out the badge size and quantity you want first. This factor will affect the price of the badges. Wherever you will order your bulk identical custom badge, you will get a discount. If you have enough budget to pay for a unique badge for every customer, go for it. When you have figured out the badge quantity you need, it is time to decide the badge size, techniques, finish according to your budget.
The second thing is to pick a design
If you already have a design in mind, you may need to double check if the design fit on the size. You may need to also make some tiny revisions to your original design based on the printing colors and finishes. Picking a good design offers you a chance to get creative and have fun.
At Morning Craft, we can supply each customers an 100% free quote. This step allows you to double check the size and ask for advice from experienced craftsmen to make modification.
Contact Morning Craft for Custom Metal Badges
Promotional items are a good way to keep customers coming back. If you If you want to create custom badges for your customers, contact Morning Craft today. We will offer you the best prices. Our experienced craftsmen will make your badges stand out. For more information about cheap custom metal badges for your business, contact us at [email protected] right now.
Prev News: We Craft The Suitable Badges For You
Next News: Ways to Wear Lapel Pins & Badges